Samsung S85 eight-megapixel digital camera
The Peoples' Choice?
The S85 is not a bad looker: it's finished in two-tone aluminium and feels quite classy in your mitts. However, there's a price to be paid for affordability and in this case it's the size of the camera. After using super-sleek models that vanish in the palm of your hand, it's a bit of shock to go back to a camera of this chunkiness. Don't get us wrong: the S85 isn't a massive beast by any means – it measures just 10cm across and is around 2.4cm deep, but at some 6.3cm in height, it towers over many models. However, the S85 only weighs around 154g, excluding battery and memory card, so at least you won't get a hernia carrying it around.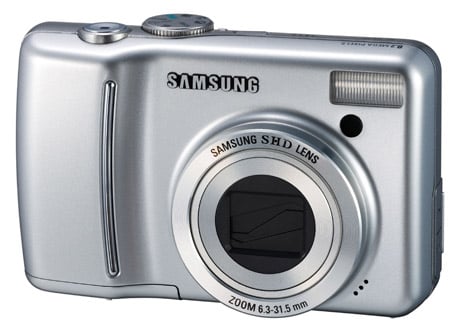 A little on the large size, but eminently portable
Around the back is a decent-sized, 2.5in LCD screen, which functions as a viewfinder, playback screen and menu display, and a few control buttons: E for effects, FN for Function and a multi-function menu control which also selects the macro mode and timer. A small rocker switch operates the zoom.
On the top of the camera is the power button - which needed a good hard press to get going - shutter trigger and mode dial. The latter lets you select various screen shooting styles, including auto, manual and 13 pre-programmed modes. Now, we said this was a camera for the masses, but we have to confess that Samsung seems to have gone overboard on the number of options available.
For instance, we suspect that few people using this camera will bother to use most of the program settings, which bizarrely include a Food mode and a Café mode. Why Samsung didn't plump for, say, a Supermarket mode too is beyond us. There's also a Child mode, which actually isn't specifically designed for the taking snaps of the little darlings, but is for taking pictures of fast-moving objects - obviously the kids in Korea are much more energetic than the many British children who seem to spend half the day pigging out in front the box...
The same goes for the number of on-board effects. These use digital processing to add effects to images, such as changing the colour of the image - take your picl from sepia, red, and black and white, among others. You can also add cartoon captions to images; rotate them; put just part of an image in sharp focus; combine up to four different images; and even add a heart-shaped effect around an image of your beloved – aahhh. These effects are good fun on a night out with friends and after a few drinks, but we can't see them getting that much use.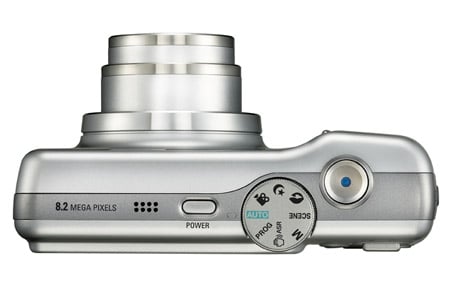 The power button needs a good hard press to get going
And we've only scratched the surface when it comes to options, because you can also change the image size from a one-megapixel setting (1024 x 768 resolution) to eight megapixels (3264 x 2248). Then there's a sub-menu for selecting Super Fine, Fine or Normal modes - essentially the amount of JPEG compression applied to each pic. There are also options for setting the colour, saturation, exposure, white balance, shutter speed, ISO, an more. To be honest, you could spend weeks going through the various permutations.
Sponsored: Minds Mastering Machines - Call for papers now open