Tasmanian tumours blamed on inbreeding
Devils face visit from the Darwinator
Warning: Graphic content More evidence, if it were needed, that no good can come of indulging in cousin-coitus. The Tasmanian devil, the grouchy doglike marsupial immortalised in the form of Warner Bros character Taz, is facing extinction due to a rampant communicable cancer.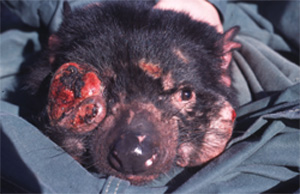 The gruesome effects of DFTD.
Researchers have concluded that the rapid spread of the cancer, which has halved the devil population in just over a decade and may obliterate it altogether in another, is due to a lack of genetic diversity.
The flourishing Devil Facial Tumour Disease (DFTD) seems to pass easily from one animal to another during fights over food and mates. The devils are generally free with their teeth in such skirmishes, but the smallest of wounds to the mouth can result in death within six months as the cancer takes hold. Tumours sprout around the head and face, sometimes displacing eyes and teeth, and make it impossible for the animals to feed, inevitably leading to death from starvation.
The disease is one of only two known naturally-occurring infectious cancers - dogs and other canines can contract Canine Transmissable Venereal Tumour (CTVT) through copulation, but it is by no means always fatal.
Scientists have been struggling to find out the secret of DFTD's success in killing devils, whose population has fallen to around 75,000 from 150,000 in 1996. A collaborative project between the Sydney and Tasmania Universities, published this week online in the journal Proceedings of the National Academy of Sciences (pdf here), has made the breakthrough discovery that the devils' immune system - unlike that of dogs suffering from CTVT - simply does not fight the cancer because of a lack of genetic variation within the population.
The most important immune system gene region, the Major Histocompatibility Complex (MHC), has lost its healthy diversity in Tasmanian devils over time - the MHC of the tumour corresponds too well to that of the infected animals for their system to be inclined to combat it.
This means that otherwise robustly healthy animals can succumb quickly to DFTD, since their bodies do not recognise it as a threat. Rather, the cells are embraced by the animal's system as their own - the cells in all infected devils are genetically identical, making contraction of the cancer more like a sort of malign transplant.
A "Noah's Ark" project should ensure the survival of the species, with disease-free "insurance populations" being bred in safe areas. In theory, when DFTD is extinct the healthy colonies can be reintroduced - however, the ecological impact of the devils' rapid disappearance from the wild may be dire.
Sponsored: Minds Mastering Machines - Call for papers now open