Apple TV 160GB media player
A must-have for anyone with music and movies on a PC?
Navigation of the menus is as intuitive as you'd expect from an Apple product. If you can drive an iPod then you'll find the Apple TV a doddle, and so too will your mum or - dare we say it - the wife.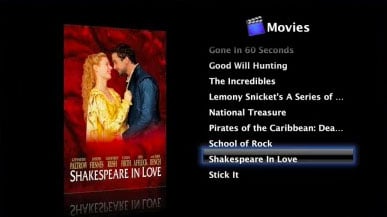 Apple's Apple TV: gran-friendly user interface for movies...
The clue lies here, where Apple spells out the list of supported formats which includes H.264 at 1280 x 720 and a data rate of 5Mbps, as well as MPEG 4 at up to 3Mbps. If you want to play movies from the iTunes store the quality is limited to VGA (640 x 480).
Mac users can try Elgato's H.264 USB-connected video encoder - reviewed here - and there's a similar unit for Windows users, Instant Video To Go, from ADS. Both should be able to recode video for the Apple TV in a way that yields better looking pictures.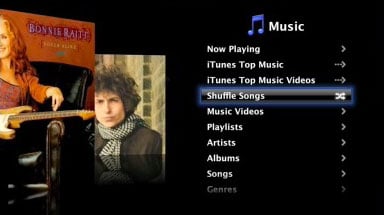 ...music...
Then there's the extensive list of formats that aren't supported, which includes DivX, MPEG 2, WMV and Xvid. Take all those points in combination and the list of movies and TV shows that you can watch is limited and will very likely look quite poor on your enormous HDTV.
Of the various movie clips that we watched, the best was a DVD rip of an old Doctor Who from the early 1980s, possibly because it was originally recorded in an analogue format, while modern recordings of CSI which were broadcast in 720p looked less than impressive as the blocks and artefacts were clearly visible.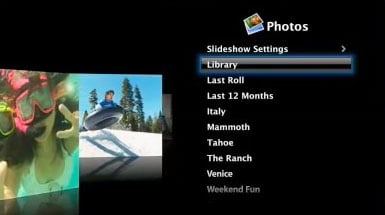 ...and photos
The other oddity is the Apple TV's YouTube feature, which allows you to watch clips quickly and easily. They're usually shown in a tiny window on your computer screen and here they are, blown up to enormous size on your TV and - guess what - they look absolutely dreadful.
Audio support is less of a shock and you can listen to the same AAC and MP3 files that you have on your iPod but - and this is the question - do you want to listen to music through your TV? I don't, and I can't think of anyone who does. Fortunately, the RCA stereo ports allow you to hook the gadget up to both your TV - for navigation and track selection - and to your hi-fi for amplification. Just remember to mute your TV first, OK?
Verdict
Unlike previous media extenders, the Apple TV takes Mac- and PC-sourced content and displays it on the big screen, quickly and easily. However, the list of supported formats and bit-rates is so short that its effectiveness is severely curtailed. Bring on the Apple HDTV.
Sponsored: Minds Mastering Machines - Call for papers now open

Apple TV 160GB media player
Streaming media from your PC to your TV can be a pig, so here's a cool device from Apple that ought to sort the matter in one fell swoop...