Apple TV 160GB media player
A must-have for anyone with music and movies on a PC?
This is the essence of the Apple TV. The hardware requirements inlcude a TV or display with a 16:9 aspect ratio and a digital input, so you can forget about an oldy worldy CRT telly with a 4:3 aspect ratio and just a couple of Scart connectors round the back - at least not without a hefty addition hardware cost for a suitable adaptor.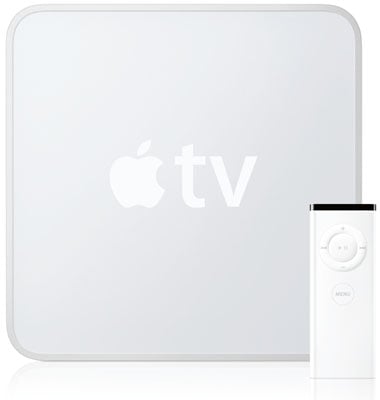 Apple's Apple TV: lots of hardware, small box
Apple doesn't supply any cables with the TV unit which is annoying, but a full set of HDMI, component, RCA and optical cables would add about £50 to the retail price so we picked up the phone and got TechLink to send us one of its WireCR range of HDMI cables.
There's no software in the package as you need to download the latest version of iTunes, but realistically the majority of prospective Apple TV customers already use iTunes to sync their iPod.
You control the Apple TV with a remote that looks like an original iPod Shuffle or, indeed, like the one you get with an iMac or MacBook. When you connect the Apple TV unit to your home network it pops up as a device in iTunes and you key in the five-digit code displayed on the TV screen to authorise the link.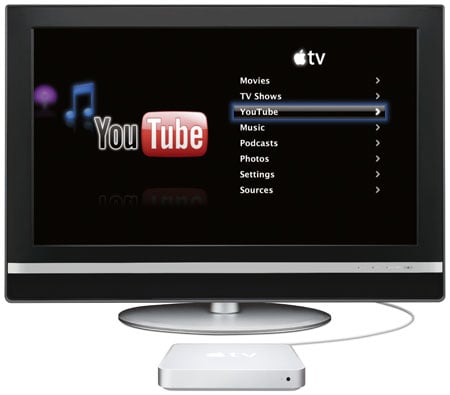 Apple's Apple TV: grainy YouTube Flash videos blown up to 720p, anyone?
Syncing content from iTunes generates a second five-digit code, presumably to double-check your content isn't being snaffled by another member of the family who also has an Apple TV. We were surprised to see that iTunes reported a total of 11,730 items on our hard drive and saw that it syncs in a specific sequence starting with movies, then TV, music, podcasts and photos. We saw that the 160GB drive has 144.63GB available capacity which is considerably less than we'd expect, even allowing for formatting the drive and the cut-down version of Mac OS X that the Apple TV runs.
Exploring the menus unveiled a large number of movie trailers that were presumably pre-loaded on the unit. The quality of these trailers was none too impressive so we bumped up the default 720p picture setting to the maximum quality setting of 1080i. The picture improved significantly, but even so it wasn't all that great.
Sponsored: Minds Mastering Machines - Call for papers now open