Nintendo leads DS gamers up the garden path
Got wood?
Nintendo could be barking up the wrong tree with this one, but it's trying to brand itself as an eco-friendly computer games company nonetheless. The company's released a game for the DS handheld console that urges gamers to play with flowers and break-dance.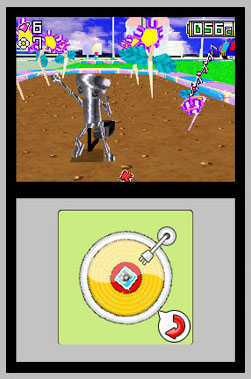 Chibi-Robo: Park Patrol - some gamers will win a free tree seedling
The game in question, Chibi-Robo: Park Patrol, is an adaptation of an existing Gamecube title. However, Park Patrol's eco-credentials aren't immediately evident becuase the main character, a robot, must battle monstrous flowers with a water pistol device.
Nintendo claims the game is one of the first environmentally-themed videogame adventures. But besides from making gamers kill plants and waste virtual water, the robot also drives around in a selection of buggies, cars and boats. Each no doubt each pumping out virtual pollutants, unless they're run on bio-oil.
However, reviving dead flowers with the robot's break-dancing skills is defiantly a new take on conservation.
In the US, Nintendo is promoting the game's release by giving away 500 tree seedlings to gamers that register their copy of the game online. The company claims the promotion is designed to "help keep environments clean and beautiful" and the winners will be randomly selected on National America Recycles Day next month.
We're not sure what the carbon footprint is of posting 500 tree seedlings around the USA is though.
The promotion comes just days after Nintendo announced that it will give away free protective Wii Remote 'condoms' to current and prospective owners of the console.
Sponsored: Minds Mastering Machines - Call for papers now open