Sony's 40GB PS3 due 28 October?
Evidence mounts for cut-price console
Rumours that Sony is preparing a cut-price 40GB PlayStation 3 may have been dismissed by the consumer electronics giant as "speculation", but evidence is mounting that just such a box is indeed coming later this month.
UK online retailer Play.com, for instance, is listing an unspecified PS3, clearly separate from the other models, and which is revealed when visitors to its website do a search for 'ps3 40gb'.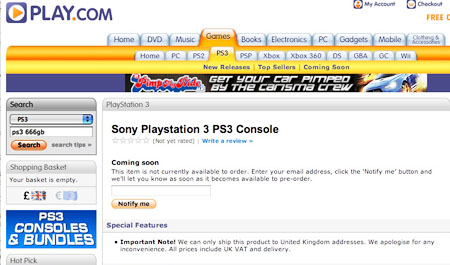 Play.com heralds... er... 666GB PS3
Except... it doesn't, despite online reports to the contrary. Most reports list this URL, which indeed appears to bring up a placeholder page for the 40GB console.
However, changing the search string embedded in the URL to, say, ps3+666gb, generates exactly the same page. Presumably, then, we can safely assume Sony is readying a 666GB version of the console.
But Engadget's publication of what it allegedly an entry in US retailer Best Buy's database showing a $400 "PS3 40GB SPIDER" product is much more compelling.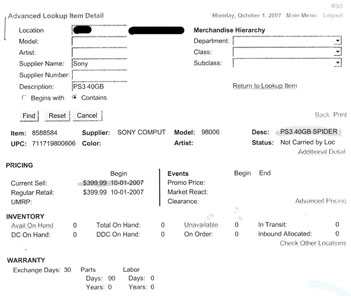 Engadget's Best Buy 40GB PS3 product listing
The product's due in stock on 28 October, and clearly refers to a console with a bundled copy of one of the Spider-man movies. That's no great surprise: Sony said at last month's IFA show in Berlin that it was preparing to bundle Spider-man 3 on Blu-ray Disc with the PS3, part of its strategy to drive demand for its favoured next-generation disc format.
This week's revelations follow the recent appeareance of a new PS3 on the US Federal Communications Commission website. That version had the model number CECHG01, not one seen on current and previous PS3 models, but the next one in the sequence.
Sponsored: Minds Mastering Machines - Call for papers now open