Panasonic strengthens Blu-ray recorder range
More worry for HD-DVD supporters
Panasonic yesterday unveiled its latest Blu-ray recorders, pitching the three Diga-brand models as the 'world's slimmest' machines of their kind.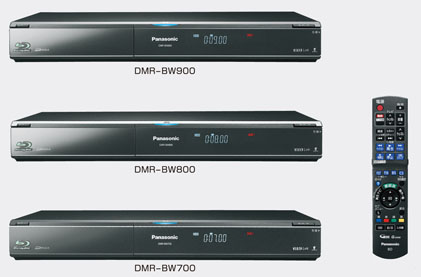 Panasonic's latest Blu-ray recorders
The DMR-BW900 will ship with a 1TB hard drive, the DMR-BW800 with a lesser 500GB capacity and the DMR-BW700 with a 250GB drive. All three can write to BD-R/RE discs, in addition to most older formats, such as DVD±R/RW.
Both the DMR-BW900 and DMR-BW800 can output at 1080p resolution and cinema-style 24p 24 frames per second playback, while the DMR-BW700 works at 1080i. Each recorder also supports 7.1-channel surround sound and has one HDMI output.
Panasonic claimed all three models are the industry's slimmest Blu-ray recorders, each standing at 5.9cm high.
Panasonic's announcement comes hot on Sharp's heels. Last week, Sharp unveiled 1TB and 500GB capacity Blu-ray recorders that also record to Blu-ray discs.
Panasonic also launched three new Diga DVD recorders, each equipped with an HD TV tuner. The DMR-XW300 has a 500GB storage capacity, while the DMR-XW200V and DMR-XW100 models both have 250GB of storage. All three sport a single HDMI output, but the 200V also integrates a DVD/VHS combo recorder, so the analogue tape format's not dead just yet, it seems.
All three recorders have SD memory card slots, allowing users to record and playback AVCHD-format videos from, say, compatible HD camcorders. Such content can also be ripped onto DVD discs by the player.
All six models will be available in Japan on 1 November, although a price hasn't been confirmed yet. There's no word yet on an European launch either.