Nintendo to dish out free Wiimote 'condoms'
Nintendo's taking better care of Wii remotes by issuing them with protectives. The company is offering free silicone Wii Remote Jackets to existing customers and will, from 15 October, include the protective slips with new consoles.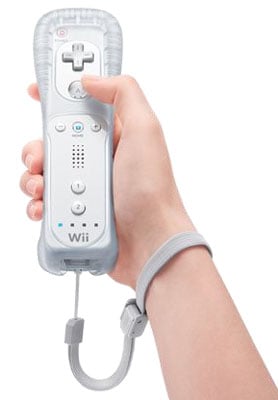 The Wii Remote's new silicone jacket
The Jacket is designed to provide impact cushioning for Wii Remotes accidentally thrown across the room during aggressive gameplay. We'd have thought the wrist-straps Nintendo offered last year were sufficient, but it seems Wiimotes next extra protection.
Or perhaps it's the punters that need it. It's not hard to envisage a rival Wii player getting an accidental mouthful of Wiimote during heated close-proximity multi-player bouts. With the Jacket on the Wiimote, other players may now no longer risk facial bruising.
There hasn't been any announcement yet about plans to launch a similar silicone slip-on for the Wii Nunchuck.
Gamers will be well aware of the alleged dangers of using a Wiimote. Some have reported losing their grip during marathon Wii Sports sessions and hitting something - or someone - with the device.
A Japanese newspaper has reportedly claimed the free covers will cost Nintendo about ¥2bn (£8.4m/€12.1/$17.2). But, the cost savings of diverting any potential Remote-related lawsuits could save the company a bundle.
In 2006, a lawsuit was launched against Nintendo that alleged it had breached its own product warranty by shipping Wiis with a Remote wrist-strap that broke, even when used as directed. Such allegations have already prompted Nintendo to improve the wrist-strap design and issue safety warnings to gamers.
Existing Wii owners should visit the Wii website to order their free silicone slip-ons.
Sponsored: Minds Mastering Machines - Call for papers now open