Microsoft revamps Zune with Flash
Steve Jobs' nighttime uninterrupted?
Microsoft has restyled and expanded its Zune portable media player collection with three new models, including a pair of Flash-based players.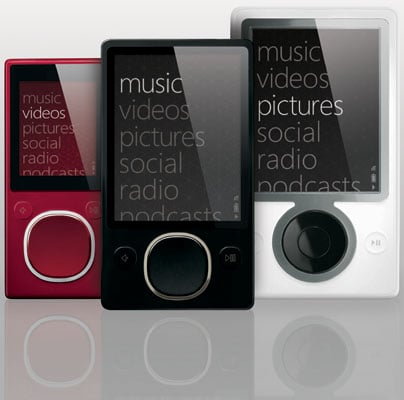 MS' Zune family: now also available in 4 or 8GB (left), 80GB (centre) and 30GB models
The 80GB hard-drive model has a 3.2in glass-fronted display - taking a lead from the iPhone perhaps - and ships with what Microsoft claimed were "premium" earphones: noise-isolating and sporting an anti-tangle cord. The 8GB and 4GB Flash models have smaller, 1.8in glass screens, but don't come with such fancy 'phones.
Each model looks slightly different. For example, the touch-sensitive navigation button is square-ish on the 4GB and 8GB models, but circular on the 80GB model. The 4GB and 8GB models have different button layouts and widths. However, most critics will be hard pressed to find any significant aesthetic differences between the new models and original 30GB player. Or indeed between the Microsoft device and Apple's iPod. There, we said it.
All three models include an FM tuner, as per the previous Zune, but have received updated menu layouts and customisation options. For example, users can add their own background images to the display and put on personal messages.
Zunes can also now synchronise content with a user's PC over a wireless network. For example, a sync process will start automatically when a Zune comes within range of a user's WLAN, or it can be started manually.
The 30GB Zune will also gain these new features through a firmware upgrade, once Microsoft's latest models go on sale.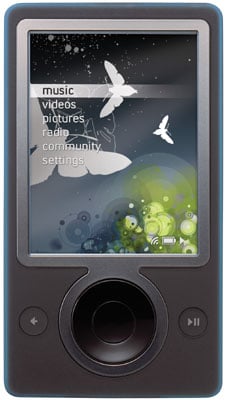 MS' original 30GB Zune
Zune fanboys will be able to get their hands on the new models from mid-November - there's been no mention of a European release. The 80GB model will retail for $250 (£125/€145), the 8GB model for $200 (£100/€120) and the 4GB model for $150 (£75/€95).
The Redmond-based company also announced an online community website for the range, dubbed Zune Social. The beta site allows users to interact with one another and to create user cards, highlighting their favourite and currently playing tracks. However, cards can't be traded.
Zune Marketplace has also been redesigned and restocked by Microsoft. The company claims it now holds about 3m songs, although Apple claims its iTunes Music Store has double that. Zune customers also have access to about 1m DRM-free MP3s on the site.
The company said Zune Social and its changes to the Marketplace will take effect from mid-November.
Sponsored: Minds Mastering Machines - Call for papers now open