Sony Walkman NWD-B105 2GB MP3 player
Simple 'n' sweet?
Once files are on the unit, the emphasis is again on simplicity. We reckon even someone with very little experience of using an MP3 player could find their way around the menu system. On the main menu there are only three symbols: Settings, Music and Voice, all indicated by very obvious icons. We also found that using the fast forward and rewind buttons on the collar of the unit and the Back button was an obvious and easy way to get around.
Other settings include Repeat and Shuffle options. A power saving facility offers three separate settings: normal, super save or off - essentially they're how quickly the device automatically powers down. Normal setting is fine, but we thought the super save was actually too quick, sometimes kicking in before you can make up your mind what you want to do.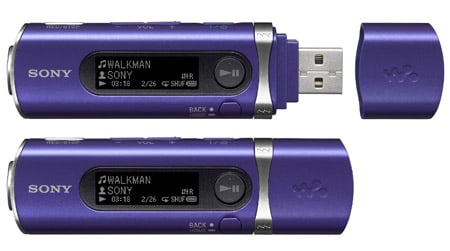 ...and, finally, violet
Playback times are listed as 12 hours for 128Kbps MP3 tracks and nine hours for 128Kbps WMA songs, which we found to be about right.
Music listings themselves come with the expected album, artist or all songs options, but the unit also recognises folders that have been created on a computer and transferred over.
Unusual for a product that's trying to keep things simple, there are several EQ options available. The Heavy setting throws a bit more bass into the mix, but the overall effect is a bit tinny. The Rock setting was better with the extra bass of the Heavy setting given a much warmer delivery. Classic sounds a little flat, but does smooth things out a little and adds detail. Pop pushes all the treble up and gives everything a sugary veneer. However, the unit sounds really good on Normal so we didn't really see the need for the extra options. In general, the sound is well organised, detailed and with less of the lifelessness that some other MP3 players deliver.
However, if you're really caught up with the idea of controlling the sound, there is a custom option where you can adjust the various different bass and treble levels to get the sound exactly how you want it.
Volume is often a problem with these players, but the unit does well here, with enough power to deal with a noisy street or to annoy the hell out of the person next to you on the train.
The voice record also has several different quality settings to choose from - High is 192Kbps, Mid is 128Kbps and Low 96Kbps. We didn't notice too much difference between the two higher settings. Playback is clear, with little distortion or hissing at the end of words or around 's' sounds, which some recorders often struggle with. The low setting had less definition and is only really suitable for recordings of a single voice in a quiet environment.
Verdict
This is a friendly little player that delivers good sound in a simple-to-use package. Features like updating the most recently downloaded tracks add that little extra to the player to place it ahead of some of its rivals, and at under £45 it's just good old fashioned value for money.
Sponsored: Minds Mastering Machines - Call for papers now open

Sony Walkman NWD-B105 2GB MP3 player
Compact and bijou. No fancy video player on this puppy - just foot-tapping tunes