M2M jumps beyond the line
The wireless Heineken effect?
Posted in Workshop, 2nd October 2007 10:28 GMT
Watch Now : Virtual Machine Movement with Hyper-V
The above chart also illustrates the most common M2M applications with, not surprisingly, remote monitoring at the top of the list, followed by remote control and metering. After these core M2M applications, we then have a group of categories that all relate to tracking of one kind or another.
Within this, vehicle tracking is fairly intuitive, but it is also interesting to see wireless M2M being called out in relation to people tracking. That would include everything from building security related applications at one end of the spectrum to personal security solutions, sometimes referred to as 'lone worker protection', at the other.
Finally, we have asset tracking, and the obvious question here is how wireless M2M compares and contrasts with the much discussed RFID approach. The easiest way to think about this is to consider that RFID tags must come into close proximity with a reader for them to be activated (and therefore register a location), which can only be achieved by either taking the reader to the asset (eg through portable equipment) or passing the asset through a location with a reader installed. In situations where valuable plant, machinery, components and the like are just "out there" moving around in ways that cannot be easily pre-defined, RFID is not practical; hence the relevance of M2M.
Of course, when we look at the kind of applications we have been discussing, many of them are only relevant to certain industries, and we can get a feel for the industries that are embracing M2M from the research. Of the 55 end user organisations from which feedback was gathered, ten were in transport and supply chain, nine were in energy and utilities (including oil and gas), eight were in maintenance services of one kind or another, and six were in telecommunications (telco respondents declaring themselves as suppliers excluded). The remainder were primarily spread across various other "industrial" sectors, though there were a number of respondents from healthcare and public sector.
Perhaps most revealing from this study, however, is the overall adoption picture, which suggests that wireless M2M is tracking traditional wired M2M pretty closely, just lagging behind a little.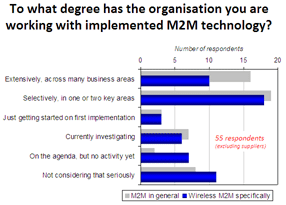 With this research having been conducted online, there is the chance of sample bias towards those with an interest in wireless M2M, but the survey used as a vehicle for the study was deliberately promoted in a challenging way, almost questioning the validity of wireless in the M2M context, which would have flushed out the sceptics. We therefore anticipate the above picture to be a reasonable reflection of the M2M space in general.
Of course the interesting question is whether cellular networks in particular will make some applications in this area more practical and cost-effective than traditional approaches, creating a Heineken phenomenon - allowing wireless M2M to reach the parts that other solutions cannot reach. ®