Amazon: James Blunt is still a tedious w*nker
Q.E.D.
Yesterday we broke the important news that demobbed whining blueblood James Blunt is now officially a wanker.
Since then, there's been some censorious skulduggery down at Amazon.co.uk, which was host to the British people's judgement. Instead of "akira, kt tunstall, wanker", the related searches for Captain Blunt are now "akira, kt tunstall, foo fighters".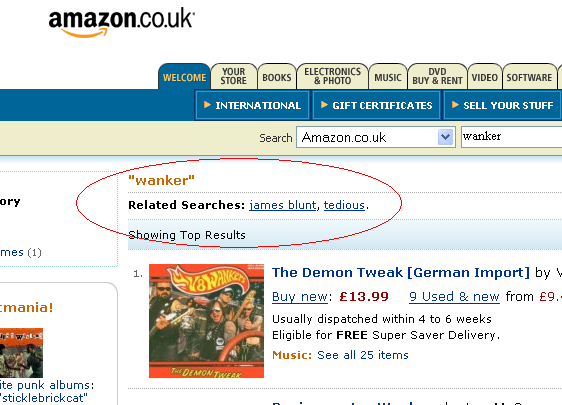 It's with thanks to our readers then, that we report that a search for "wanker" brings up both "james blunt" and "tedious".
As far as El Reg's scientific scrutiny committee is concerned, that's an independent test and makes for irrefutable evidence - no matter where the Amazon red pen falls - that Master James Hillier Blount is definitely a wanker, and probably a tedious one.
If the Hillier Blounts do get bored of James' tiresome nasal laments down at the family pile Mawley Hall this Christmas, we'd like to suggest they order "The Wanker Family Christmas Game: Hilarious fun for all ages with a special personal touch". It's just £7.99 at Amazon.co.uk. ®
Sponsored: RAID: End of an era?