At the time of writing we can find no sign that LG intends to release either of these handsets in the UK, which is a shame as both are decent and desirable phones ideal for anyone who wants a spare handset or just a basic phone without a camera or media player. Based on current MRRP prices in Thailand, the KG275 will set you back about £22 and the KG271 around £27. The Motofone F3 comes inbetween the two at around £24. The fact that one major UK retailer currently has the F3 on offer for a tenner plus £10 of airtime would perhaps suggest a similar price for the LG phones if they ever make it to these shores.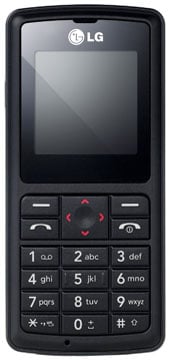 LG's KG275: business-friendly looks
Which does rather lead to the question: Just why is it so hard to buy a modern, cheap, unlocked handset across the counter in the UK?
On a recent trawl of stores in Manchester, the best we found was a £30 Samsung C300 in Asda. Sad to say it was locked to Orange so that involved driving to an independent specialist and getting it unlocked for a further £8, so nearly £40 spent - not including petrol - and the C300 is getting a bit long in the tooth.
Alcatel handsets are often seen advertised at low prices, but supply seems to be a constant problem with retailers large and small, and most seem locked. Entry-level Nokia handsets such as the 1112 are quite simply antediluvian.
Yet in many parts of South-East Asia one can nip into any half-decent electronics emporium, pick up a new, modern, unlocked handset such as either of the LG models above for little more than £20, grab a SIM card from any corner Seven-Eleven or Family Mart along with a pre-paid top up card, and, bingo, you're good to go.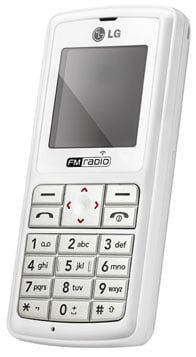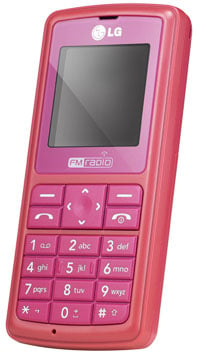 LG's KG275: and not-so-business-friendly looks
It's hard to feel we are not only making things unnecessarily complicated in the UK, but also being forced to buy more complex, more feature-rich phones than many of us actually need.
Verdict
LG has come up with a fine pair of phones. They're well made, small, light, easy to use and with plenty of features for the price. OK, there's no camera, Bluetooth, games or a media player, but for the core content you have to like them.
Looking for a cheap phone to use abroad that you can face losing? Look no further than either of these two...

LG KG271 and KG275 budget phones
The KG271 has the better keyboard and an FM radio, but...
COMMENTS
Not a luddite...
...but I will probably get a phone like one of these soon.
At work, I often select and setup phones (for other peopl) to use GPRS/UMTS for email retrieval and the like. The latest gag is setting up Nokia phones to use VOIP via WLAN when the user is in the office.
However, for myself, I just want a phone to be phone, make and receive calls and send the odd SMS. I don't want it making data connections if I accidentally hit the cunningly preprogrammed button. I don't want a digital camera with a crappy lens - I have a real camera for taking photos. If I want to run some application, I like a screen bigger than a postage stamp.
A phone which is just a phone and will fit in my shirt pocket would be ideal.
Title
Martin, to find your own number go to Menu - Contacts - 7 Information - 2 Own Numbers. Should show as Line 1 with the number at the bottom of the screen.
KG 275 in UK for £9.99
Just bought one of the machines as described above from my local Sainsbury's -- on special half-price offer, hence the £9.99 price tag.
Seems absolutely OK to me (BTW: I've *never* used a mobile phone in my life before; so absolutely everything about it was NEW knowledge to me.)
Two hiccups:
1) They could really do with some instructions on how to insert a sim card -- like a picture telling you to slide it UNDER the metal holder-bar across the depression under the battery that takes the sim.
(Took me an hour to work that one out. It's neither obvious; nor easy to insert the card.)
2) WTF is my own phone number? How do I find out?
(I wasn't given one when the card was activated over the freephone number by a guy who obviously learned his English from the manic camp DJ in 'The Fifth Element'.)
Otherwise -- a doddle. For a pensioner with a PhD, but NIL knowledge of what a mobile phone is.
Martin Wheeler
mwheeler at startext dot co dot uk
Title
"In advocating more features and bemoaning the lack of them the author misses the point entirely."
I rather think the author is making exactly the opposite point; that the lack of features is to be welcomed.
simple phones for simple people
in advocating more features and bemoaning the lack of them the author misses the point entirely. there are people like me who, though old, pre-tech and cast aside as worthless by the tech loving class, still may want to make a call away from home. they, we, just want to making a bloody call. don't care if the phone is a media/entertainment source. don't do messaging preferring to simply call the freaking person. don't particularly want a gps unit in a phone. don't want to see or hear ads from the phone. just a phone to be a phone. with a key pad made for someone with human fingertips and normal to subnormal vision.