LG KG271 and KG275 budget phones
Two not-half-bad cut-price handsets. But when will the UK see them?
Review We at Register Hardware were enthusiastic fans of Motorola's Motofone F3 - reviewed here. The very simplicity and purity of design seemed to us altogether worthy and estimable. Rather like the Mini - Sir Alex Issigonis' 1959 classic, not the BMW ersatz retro foisted on us today - the very lack of frill and fancy seemed possessed of an intellectual purity not often seen.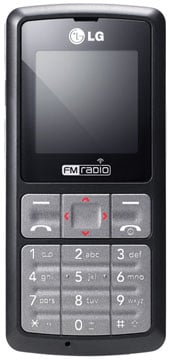 LG's LG271: FM radio on board
In an era of ever more complex handsets with keyboards that slide and swivel in more ways than the Einsteinian universe seems comfortable with, with yet more power-hungry applications shoehorned in even though most users will never need nor use them; with cameras that are not, when all's said and done, very good cameras, and media players that are not a patch on an iPod; the F3 was like a pint of honest bitter in a world of strange drinks with unpronounceable names or the world 'lite' in them.
Alas, longer association with the F3 proved it not to be without its faults, the ClearVision display being the most obvious. Clear and easy to read, and very meagre on the power to be sure, but effectively useless for texting, giving no more than 2 x 6 characters per screen.
A perhaps more satisfying answer to the same question the F3 tried to answer has recently been released into several key Asian markets by LG in the form of the KG271 and KG275 candybar handsets. The 'less is more' logic has perhaps been applied less ruthlessly than with the F3, but the end result is more in tune with most users' day-to-day needs.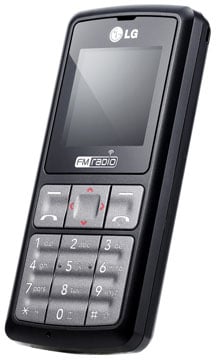 LG's LG271: good to use keys
Both the 271 and 275 share basic dimensions of 9.8 x 4.5 x 1.3cm, though the 271 is the lighter of the two at 59g, compared to the 275's quoted 72g. The only functional differences between the 271 and the 275 are that the former is dual-band (GSM, 900MHz and 1800MHz) and comes with an FM radio while the latter is an FM-less tri-band (GSM, 900MHz, 1800MHz and 1900MHz).
Neither handset comes with much in the way of internal memory, and nothing by way of memory expansion, but each has a 300 entry phone book on board along with room for 100 stored texts and a few pics etc. Each unit also comes with 16 polyphonic ring tones and three wallpapers for greater "personalisation".
Sponsored: Minds Mastering Machines - Call for papers now open