LG KG271 and KG275 budget phones
Two not-half-bad cut-price handsets. But when will the UK see them?
Review We at Register Hardware were enthusiastic fans of Motorola's Motofone F3 - reviewed here. The very simplicity and purity of design seemed to us altogether worthy and estimable. Rather like the Mini - Sir Alex Issigonis' 1959 classic, not the BMW ersatz retro foisted on us today - the very lack of frill and fancy seemed possessed of an intellectual purity not often seen.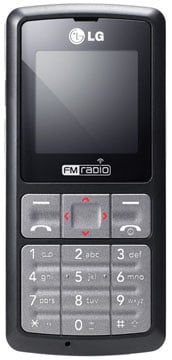 LG's LG271: FM radio on board
In an era of ever more complex handsets with keyboards that slide and swivel in more ways than the Einsteinian universe seems comfortable with, with yet more power-hungry applications shoehorned in even though most users will never need nor use them; with cameras that are not, when all's said and done, very good cameras, and media players that are not a patch on an iPod; the F3 was like a pint of honest bitter in a world of strange drinks with unpronounceable names or the world 'lite' in them.
Alas, longer association with the F3 proved it not to be without its faults, the ClearVision display being the most obvious. Clear and easy to read, and very meagre on the power to be sure, but effectively useless for texting, giving no more than 2 x 6 characters per screen.
A perhaps more satisfying answer to the same question the F3 tried to answer has recently been released into several key Asian markets by LG in the form of the KG271 and KG275 candybar handsets. The 'less is more' logic has perhaps been applied less ruthlessly than with the F3, but the end result is more in tune with most users' day-to-day needs.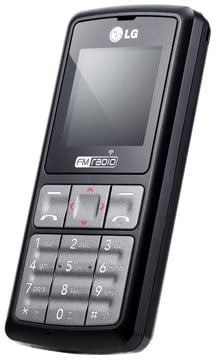 LG's LG271: good to use keys
Both the 271 and 275 share basic dimensions of 9.8 x 4.5 x 1.3cm, though the 271 is the lighter of the two at 59g, compared to the 275's quoted 72g. The only functional differences between the 271 and the 275 are that the former is dual-band (GSM, 900MHz and 1800MHz) and comes with an FM radio while the latter is an FM-less tri-band (GSM, 900MHz, 1800MHz and 1900MHz).
Neither handset comes with much in the way of internal memory, and nothing by way of memory expansion, but each has a 300 entry phone book on board along with room for 100 stored texts and a few pics etc. Each unit also comes with 16 polyphonic ring tones and three wallpapers for greater "personalisation".
COMMENTS
Not a luddite...
...but I will probably get a phone like one of these soon.
At work, I often select and setup phones (for other peopl) to use GPRS/UMTS for email retrieval and the like. The latest gag is setting up Nokia phones to use VOIP via WLAN when the user is in the office.
However, for myself, I just want a phone to be phone, make and receive calls and send the odd SMS. I don't want it making data connections if I accidentally hit the cunningly preprogrammed button. I don't want a digital camera with a crappy lens - I have a real camera for taking photos. If I want to run some application, I like a screen bigger than a postage stamp.
A phone which is just a phone and will fit in my shirt pocket would be ideal.
Title
Martin, to find your own number go to Menu - Contacts - 7 Information - 2 Own Numbers. Should show as Line 1 with the number at the bottom of the screen.
KG 275 in UK for £9.99
Just bought one of the machines as described above from my local Sainsbury's -- on special half-price offer, hence the £9.99 price tag.
Seems absolutely OK to me (BTW: I've *never* used a mobile phone in my life before; so absolutely everything about it was NEW knowledge to me.)
Two hiccups:
1) They could really do with some instructions on how to insert a sim card -- like a picture telling you to slide it UNDER the metal holder-bar across the depression under the battery that takes the sim.
(Took me an hour to work that one out. It's neither obvious; nor easy to insert the card.)
2) WTF is my own phone number? How do I find out?
(I wasn't given one when the card was activated over the freephone number by a guy who obviously learned his English from the manic camp DJ in 'The Fifth Element'.)
Otherwise -- a doddle. For a pensioner with a PhD, but NIL knowledge of what a mobile phone is.
Martin Wheeler
mwheeler at startext dot co dot uk
Title
"In advocating more features and bemoaning the lack of them the author misses the point entirely."
I rather think the author is making exactly the opposite point; that the lack of features is to be welcomed.
simple phones for simple people
in advocating more features and bemoaning the lack of them the author misses the point entirely. there are people like me who, though old, pre-tech and cast aside as worthless by the tech loving class, still may want to make a call away from home. they, we, just want to making a bloody call. don't care if the phone is a media/entertainment source. don't do messaging preferring to simply call the freaking person. don't particularly want a gps unit in a phone. don't want to see or hear ads from the phone. just a phone to be a phone. with a key pad made for someone with human fingertips and normal to subnormal vision.