HTC adds real, virtual keypads to second-gen Touch
3G Touch Dual launched
HTC has introduced a version its Touch smartphone - reviewed here - this time with the company's trademark slide-down keypad.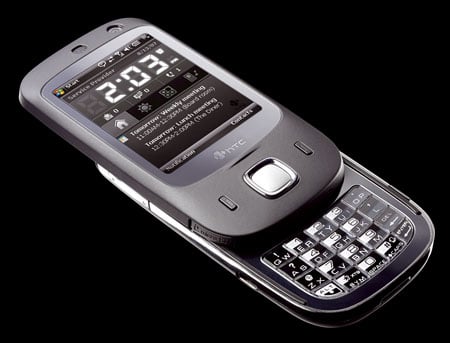 HTC's Touch Dual: slide-out keypad on board
The Touch Dual sports the regular Touch's finger-operated user interface, updated with a full-size soft keyboard to augment the mobile phone-style keypad that drops down at the bottom of the handset.
Why add a physical keypad when you're trying to drive users to a touch-sensitive interface? To help those users who're a little unsure about touch controls, said Florian Sieche, the head of HTC's European operations.
Incidentally, HTC said a software update would bring the virtual keyboard to the original Touch.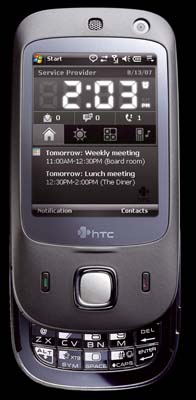 HTC's Touch Dual: now with HSDPA
Like the Touch, the Dual has Wi-Fi (nope, it's not in there after all) and Bluetooth 2.0+EDR on board, but it also features HSDPA 'super 3G' high speed download technology. The new handset also incorporates a front-facing camera for video calls. Tri-band GSM/GPRS/Edge connectivity is present for 3G-less locations.
The 120g Dual has a two-megapixel main camera. The screen is a 2.6in, 240 x 320 panel. There's 256MB of Flash and 128MB of Ram - and a Micro SD card slot for more.
The Touch Dual is due to go on sale across Europe at the end of this month, initially through Orange. The carrier's UK wing will offer the handset at various prices down to nothing at all if you're willing to take out a £35-a-month subscription. HTC did not disclose SIM-free pricing.
COMMENTS
Orange, end of the month?
Aye...and I'll eat my hat* if they actually release this handset by the end of the month! In a HTC press release, Orange were supposed to be the first operator in the UK to be releasing the uber brilliant HTC TyTN II in September! Funnily enough, T-Mobile appear to have beaten them to it with their MDA Vario III. Not to mention anyone dreaming of using any handset with HSDPA on the Orange network better have bloody deep pockets rammed full of gold coins, or at least take out a second mortgage to cope with their crazy data pricing. At least folk at T-Mobile have a clue when it comes to this with their web'n'walk pricing....
*I will actually have to go out and buy one first, however!
So close...
I thought for a second that it was a viable replacement for my TyTn/Hermes: touch interface, but with a 2-letter keyboard which would be fine for typing, yet much better than the tytn for dialling.
It was so close, and then I read no wifi! Next!
HTC churn out devices faster than I can keep up with nowadays, and occasionally hit upon a goldy. I'll just wait 3 months for the next iteration.
Or of course I'll just wait for the 3G iPhone...