A new spin on portable DVD players
Not very handy though
If you don't mind running the risk of having your fingers sliced off while watching a film, then this portable DVD player (PDP) could be the ultimate concept design for you. Designer Yeon-Shin Seung has created a gadget with a roll-up display, but without a cover to protect users from the 1600rpm disc.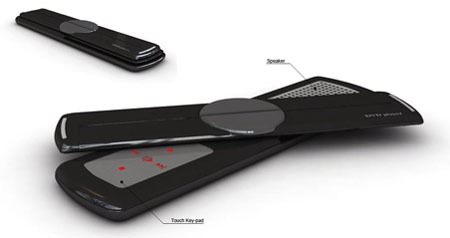 Stage one: slide open the plates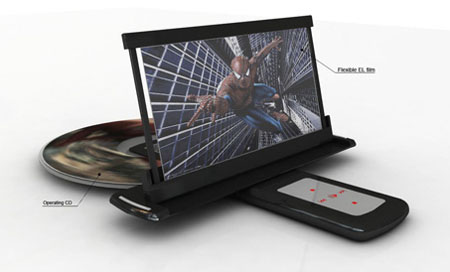 Stage two: Reach for your heavy-duty gloves
The unit is made up of two sliding plates. The top plate, Seung hopes, will contain a flexible organic electroluminescent display that looks to be about 10in and can be rolled away into the top plate. Once the top plate is slid open, a selection of standard DVD controls are revealed on one end of the bottom plate, in addition to a small speaker at the other end.
However, the PDP's really unique feature is that the DVD sits on a spindle towards the rear of the bottom plate and does not have a cover over it, as a traditional DVD bay would. Obviously this makes the PDP more portable, but would you risk using it? Just imagine dropping it on your lap...
Despite this, the idea of removing the protective case from around a spinning disc isn't new. One designer has already dreamt up a concept portable music player, shaped like a candy-bar and which opens into a v-shape to accommodate a CD. It also means that users are exposed to the possible dangers a disc spinning and well over 1000rpm. That one, however, lacked the pull-up display.
Sponsored: Minds Mastering Machines - Call for papers now open