Is your mobile tech creaking at the joints?
Time to replace those legacy solutions
Mobile Workshop When the area of mobile technology and applications is discussed, there is a tendency to treat it as a relatively new part of the overall IT landscape.
It's easy to forget that many logistics and field service organisations have been using mobile devices in the field and the infrastructure required to support them for over a decade now.
Therefore it probably shouldn't come as a surprise to hear that the concept of legacy has already emerged in the mobile space. In fact, in a recent study supported by Momote as part of the Freeform Community Research programme, 18 of the 100 field service organisations looked at alluded to field automation systems that were either being replaced or in need of replacement.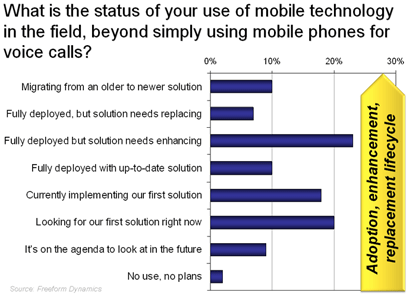 Considering that only about half of those we spoke with were actually using mobile technology in the field at all, that's a pretty high proportion of existing systems that have been overtaken by either requirements or developments in the market.
Against this background, we would be interested in your views on some key questions with regard to the longevity of mobile solutions.
Does your organisation have installations you would regard as legacy or obsolete in this space? Do you have concerns that systems being put in today may become out of date very quickly? And what advice would you give to others to make sure current mobile-related investments do not suffer from a premature end of life?
Have your say in the discussion below.®
Sponsored: Minds Mastering Machines - Call for papers now open