TwinMos Boom 1 2.1-channel iPod audio system
This could be the walrus
Review The iPod. Yes, it's arguably the most successful portable music player of all time. Yes, it's easy enough for your granny to use. And yes, everyone on the planet has one - or so it seems. But therein lies the inherent problem for any iPod accessory manufacturer...
Because the iPod is so popular and the add-on market already booming, any manufacturer trying to successfully launch yet another accessory for the recently expanded range of players will find it more difficult than getting into the London Underground at rush hour.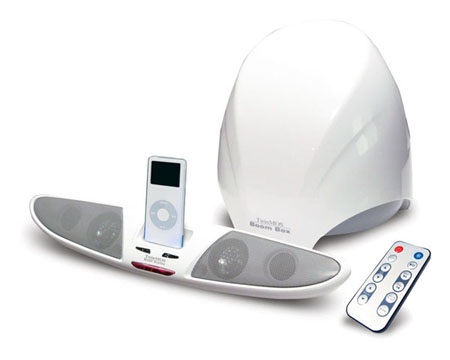 TwinMos' Boom 1: good enough for a party, but not for audio-buffs
TwinMos, manufacturer of the Boom 1 2.1 Audio System seems to have hit this problem head on and the result is a product that falls unassumingly in line with many, many other similar products. For example, the Boom 1 charges your iPod while in use or resting, it plays music through multiple speakers built into the docking station and it adds bass with an additional separate sub-woofer.
The Boom 1's first saving grace though is its ease of set-up. Once out of the box, we had the system up and working in just a few minutes, with the only connections required being one to hook the power supply into the rear of the docking station and the other to connect the dome-like sub-woofer, which measures 22.9 x 23.2cm, to the docking station, which measures 40.2 x 8.0 x 5.7cm.
Anyone not very confident with the world of connectors and cables will be pleased to hear that each one here is colour-coded and the corresponding jack on the back of the docking station is then labelled accordingly.
There's also a power-on/off button on the back of the docking station, so that you can switch it off with greater ease than fumbling behind sofas or table legs looking for the mains power switch.
COMMENTS
Positional subwoofers
Yeah, but PC subwoofers don't deserve the name, most of them do more mid-range than low and drop off a cliff below 100Hz, so this is pretty par for course. Even expensive 2.1 and 5.1 pc kit is much lower quality than a similarly priced amp+studio monitors or bookshelves, let alone expensive hi-fi sets and giant earth-rattling subs.
A cheapie iPod dock is nice for okay portable sound (not this one, but there are small ipod speakers with decent low-mid sound) and remote control (again unlike this), but it makes no sense to pay that kind of money for something that'll tie you down when real speakers are the better deal.
Sub-woofer positioning
"we found the sub-woofer needed at least a 3ft distance from the docking station to get a decent separation of sounds."
The whole point about sub-woofers is that the ear cannot tell where they are, because they only emit low frequency sound which lacks a directional component. That is why you only need one of them in a stereo or multi-channel system, and why it shouldn't matter where they are placed relative to the other speakers (although it does matter where they are placed in the room, due to "room modes"). To talk about "separation of sounds" is nonsense when the separation you want is between left and right channels, not high and low frequencies, the subwoofer being a mono device reproducing low frequency components from both channels. In fact, you want the opposite - the high and low frequencies should blend together to sound natural.