Apple iPod Classic
In a metal mood
The Classic's sound quality is equal to past iPods, so we've no complaints there. It has been said that the player won't send video content to a TV unless it's connected to a new, Apple-authorised dock or video cable, and while we don't have suitable add-ons to confirm this, we couldn't change the Classic's TV output settings, which default to off. Other reviewers are finding that there is an issue here, so if you've made a big investment in iPod peripherals it may well be worth waiting for Apple to clarify the situation before upgrading to a Classic.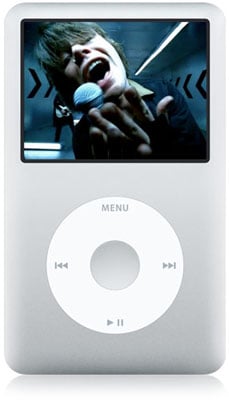 Apple's iPod Classic: shiny white, not flat grey, please
Likewise folk who bought games for the previous iPod. The ones sold on iTunes aren't compatible with the new players. Apple says new versions of three titles - Ms Pac-Man, Tetris and Sudoku - are on their way "soon".
Apple claims the 80GB iPod's battery life comes in at up to 30 hours' music playback and five hours' video. The 160GB - presumably thanks to a bigger battery - scores 40 hours and seven hours' respectively. The company's managed to meet or even exceed its claims in past iPod generations and we experienced nothing to suggest it hasn't this time round.
Verdict
As the latest hard drive iPod, the Classic - with its extra capacity and metal casing - is a good extension to the series. Yes, the silver model falls flat, but the black version is spot on.
We'd say the same about the revamped user interface if it wasn't for its inconsistencies. Some backgrounds are white, others black. Some screens have iPhone-style widgets, others are more like the old-style iPod UI. Buyers will benefit from many of the improvements - the search, the extra info, the new-style Settings menu - but others, like Cover Flow, will fall by the wayside. It'll be great on the iPod Touch, but not here.

Apple iPod Classic
It may be well capacious, with a nicely evolved UI, but the iPod Classic doesn't sparkle
Price:
80GB: £159/$249
160GB: £229/$349 RRP