Apple iPod Classic
In a metal mood
This is a shame because - Cover Flow aside - it remains a good UI, and most of the changes are improvements. The album cover slideshow on the main menu is a gimmick, but the use of icons is smart. Visit the Settings menu, for example, and as you scroll down through the options, the graphic changes to give a handy visual read-out of the setting so you can immediately see what the setting is without having to go a further step into the menu structure.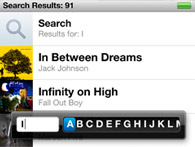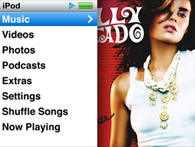 Apple's iPod Classic UI: CoverFlow aside, it's a good interface
The EQ setting image, for example, show you exactly where the sliders have been set. Move through the EQ sub-menu and you'll see precisely how they'll be changed if you apply a given pre-set. We also liked the new storage status screen, which takes the capacity read-out from iTunes and displays it on the iPod, with coloured blocks on a white bar showing you how much of your player's hard drive is loaded with audio, video, photo and other files. Press the centre button and all this slides off to the left, replaced by a list of the number of songs, videos, photos, contacts and so on that you've stored on your iPod. Click again to show the iPod's serial number.
Expect this to come into its own on the iPod Touch when you're going to need to know how much free space you have before downloading content over its Wi-Fi connection direct to your player.
Not that you really need it here, when you've a choice of 80GB or 160GB of storage. These capacities are a real boon. The Classic supports all the formats the previous generation of iPod could handle, but now there's space to start using the compressed but full quality, lossless formats. Mike Oldfield's Tubular Bells, for example, lasts almost 49 minutes and in 128KBps MP3 takes up 45.5MB. Using the Apple Lossless format, the album takes up 233.8MB - room enough for five copies of the MP3 version.
There was a time was when storage limitations meant that the trade off between capacity and sound fidelity would have favoured MP3, but since the 160GB Classic can hold around 650 Lossless albums, now you can take your collection with you and have it delivered in true CD quality.



Apple's iPod Classic UI: sub-menus slide in
Or you can store 200 hours of H.264-encoded video at 640 x 480 - more if you encode at 320 x 240, the Classic's actual screen size. Even the 80GB model can hold 100 hours of 640 x 480 video or 330-odd Lossless albums. Video playback is smooth, and the picture crisp and bright on the Classic's nice display. For video, we'd prefer a bigger screen - enter, again, the iPod Touch - but this one's not bad for occasional viewing.
Incidentally, the 160BG is the better value product: you pay £1.43/$2.18 for each gigabyte, whereas the 80GB model charges you £1.99/$3.11 per gig.