Apple iPod Classic
In a metal mood
What is noticeable is how much thicker the 160GB Classic is than the 80GB model. The latter's a svelte 1.1cm at its thickest point, and less at the edges, where the curves make it seem thinner. The 160GB Classic is only 0.3cm thicker, according to Apple's numbers, but it looks much more than that. It isn't, but at a glance you'd swear it was twice the thickness of the 80GB model.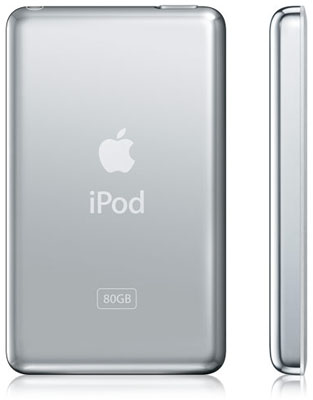 Apple's iPod Classic: still shiny, still thin
The Classic's screen size - 2.5in across and 320 x 240 pixels in resolution - is the same as last year's 5G iPod and again backlit by LED to help conserve battery power. Apple's newest earphones are included, along with a USB 2.0 cable - this time with a slightly more compact dock connector, not that that matters much - and an adaptor for Apple's universal dock system. Once again, there's no iTunes CD, but the software's just a download away.
Turning the Classic on really rings in the changes. Fresh from the iPhone, Apple has re-purposed its graphic designers' work for the new iPods. The updated iPod user interface doesn't simply borrow the iPhone's visual style, it clearly works the same way, albeit through the clickwheel rather than a touch-sensitive display.
Click on a displayed world clock face, for instance, and up pops a slider with 'Add' at one end and 'Delete' at the other. Sliding your thumb on the clickwheel moves the selector back and forth between these two choices, but what you really want to do is move it the selector by sliding your finger on the screen.
Powered on, the standard iPod colour menu now fills just the left half the screen, with the right-hand side devoted to graphics. The text is again rendered in smooth, bold lettering, while the images are given that grey gradient background tint and vaguely glassy looking iconography familiar to anyone who's seen a Steve Jobs keynote speech. Interestingly, the menu bar casts a drop-shadow onto the image space, clearly implying a visual hierarchy between the two.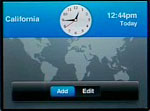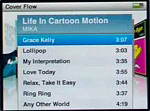 Apple's iPod Classic UI: iPhones affectations
The pictures the iPods displays are context sensitive - move the cursor down the list and the images change. Top of the menu is the 'Music' sub-menu, initially showing a bold 'No Music' icon and message, but quickly replaced with a dynamic slideshow of album art once you copy over some tracks.