Zoom up ropes on silent electric drive
James Bond underwater assault gear goes public
DSEi British gov-wartech spinoff Qinetiq is showing a bunch of stuff here at the DSEi battleware fest, but one of the most eye-catching displays is undoubtedly the "Upstart" motorised rope-climb rig.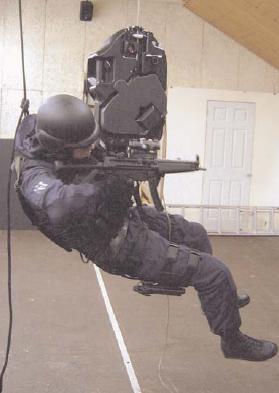 Freeze, creep! Sh*t, I keep spinning round
It isn't quite James Bond kit: the UpStart isn't going to fit under a dinner jacket. It's a motor and battery pack which you could clip to a climbing harness or perhaps use as a traveller unit on a Tyrolean Traverse. It's rated to hoist 400lb up 650 feet before needing a recharge, though the Qinetiq live DSEi guinea pig said he's tested it to 550lb without any trouble, still getting decent endurance.
A snazzy gadget to be sure, but who wants it? Lots of people rope up and down from helicopters, but it makes a lot more sense to put the winch in the helicopter.
The main people at the moment who need to get up ropes silently with lots of heavy kit are the Special Boat Service (SBS - the seaborne equivalent of the SAS). They've spent decades specialising in methods of approaching ships, oil platforms and the like underwater - or perhaps partially immersed. Then they need to get up on deck fast, quietly and with all their weapons, body armour, entry devices and the rest of it. In the past, they would use various kinds of kit attached to ropes, or folding ladders or whatnot; but it was all still muscle-powered. People have been known to say that the climbs are one of the hardest parts of SBS assault exercises.
Funnily enough, Qinetiq's spec sheet (pdf) assures us that the UpStart is IP68 sealed for "underwater insertion", and there is an optional inflation pack for achieving neutral buoyancy on the underwater swim or ride in to the objective.
In fact, rumour has it that kit like this may have been in use with the SBS for a while. The public appearance of UpStart is probably more a matter of selling it to other people, in particular the American maritime spec-ops community.
That said, there could be other customers. UpStart might be handy for mountain rescue people needing to lift casualties in locations where no helicopter was available; or it might be used to scale buildings in urban rather than feet-wet operations, perhaps by SWAT cops as opposed to military types.®
Sponsored: Minds Mastering Machines - Call for papers now open