Sony Ericsson ponders PlayStation phone
Even as PSP gets more like a handset
Sony Ericsson is considering the application of the PlayStation brand to a series of phones, the company's outgoing President has confirmed.
Sony Ericsson already uses a number of well-known Sony sub-brands, in particular Walkman and Cyber-shot, which it applies to music and photography oriented handsets, respectively.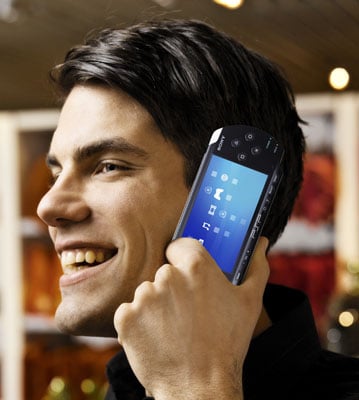 Sony PSP handheld gaming... er... telephone
Company President Miles Flint - who leaves the company at the end of October - told the Finan cial Times newspaper that applying the same principle to the PlayStation brand was a "possible future activity". Ditto the use of the Bravia brand, currently adorning Sony's HDTVs.
Actually, Sony Ericsson has already begun using Bravia on certain handsets. As Register Hardware reported back in January, a bright red Bravia phone with an on-board digital TV tuner is already being pitched at the Japanese consumers through the DoCoMo network.
Getting the experience offered by a PlayStation phone right would be crucial to its success, and Flint admitted the design of such a handset was a long way off. Sony's Computer Entertainment division, already under pressure for lacklustre PS3 sales, wouldn't want to see demand for its PSP handheld console diminish as a result of a phone that did much the same job - not in the near future at least.
Ironically, SCE is already considering how to make the PSP more phone like. It's working with BT to develop messaging software for the handheld, due to be released in January 2008 as Go!Messenger. The console's also going to get its own GPS satnav module, Go!Explore.
Sponsored: Minds Mastering Machines - Call for papers now open