Aztech V500DS-S1 Skype DECT phone
VoIP moves out of the 'PC peripheral' era
Set up is as simple as simple can be: connect the basestation to a phone socket; link the basestation to a router via the Ethernet cable; plug in; charge up; log in to your Skype account; make a call. If needed, the 41-page manual is both clear and concise, and gives comprehensive details of the extensive handset and Skype settings menu structure.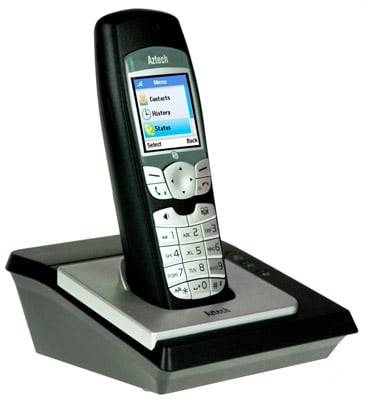 Aztech's V500DS-S1: good call quality on Skype and landline
Basic handset features include the ability to log incoming, outgoing and missed calls - the last ten in each category - and a 50-number phone book for landline calls. Also included are a selection of not-too-horrible polyphonic ringtones, a headset jack and a hands-free speaker phone. The basestation can play host to up to four handsets.
When lifted out of the cradle, the handset lights up with a rather fetching orange glow and you're ready to go. The quoted range for the handset is given as 300m line of sight, or 50m indoors. Certainly it worked well in all parts of the house, and sound quality was never less than excellent.
As a landline phone, the V500DS worked exactly as you'd expect any cordless landline phone to do, while call quality over Skype wasn't noticeably worse during a selection of calls to overseas landlines and mobiles.
The handset can be pre-set to treat either VoiP or landline as the default method for dialing out, or you can chose Always Ask if you aren't one of life's decisive types. The phone can also be set to answer a call automatically when it's lifted out of the cradle.
Sponsored: Minds Mastering Machines - Call for papers now open