Aztech V500DS-S1 Skype DECT phone
VoIP moves out of the 'PC peripheral' era
If you do not have a subscription to SkypeOut or SkypePro, the V500 will allow you to make Skype-to-Skype calls, but frankly that is just IM via a phone and is rather like buying a car, but deciding not to buy any tyres for it.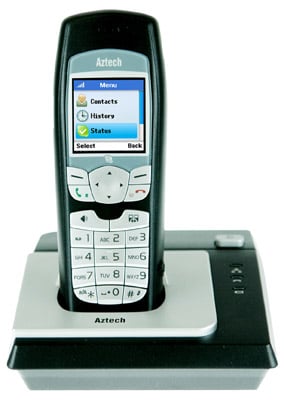 Aztech's V500DS-S1: PC not required
SkypeOut and SkypePro are the functions that give free-standing Skype phones their killer punch. With no more effort than it takes to make a standard local landline call you can now speak to your long-lost brother in Western Australia on his mobile for 13.3p a minute, or Auntie Joan in Nevada for 1.4p a minute and a call to a mobile in En Salvador only costs 9.7p a minute.
OK, we don't actually know anyone in El Salvador, but that isn't the point. Sure, some VoiP providers may be able to better these prices by a little, but compared to landline or mobile overseas call rates, they are the steal of the century and the convenience factor of pre-loaded Skype is hard to beat. At last you can leave your computer turned off when you want to use the service.
A good standalone VoIP and DECT phone really does make the world a smaller place.
Verdict
A better buy than the Netgear alternative? It's hard to answer that question definitively as Aztech has yet to announce UK availability or pricing. There is little in it in turns of performance and functionality, but for our money the Aztech is a clear winner from an aesthetic point of view and the handset is the better of the two to hold and use. Prices being more or less equal we would go for the Aztech.
Sponsored: Minds Mastering Machines - Call for papers now open

Aztech V500DS-S1 Skype DECT phone
Looks, build quality and a one-box design gives the V500DS the edge for voice calls...
Price:
SGD249 (£81/€119/$163) - official UK price: £70 RRP