DLO HomeDock Music Remote wireless iPod dock
The answer to the iPod owner's hi-fi dreams?
If you're using the HomeDock with a smaller capacity iPod or listen mainly to your playlists then this is perhaps not such an issue. If, however, you have a larger capacity iPod and want to play your music collection album by album then the DLO's menu structure is a major handicap. Adding an album selection function to the menu would surely not have had much impact on the cost of manufacture but would have revolutionised the HomeDock's ease of use.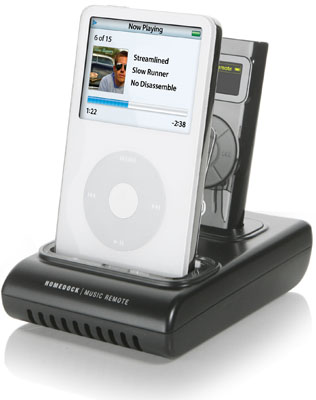 DLO's HomeDock Music Remote: all dockable iPods catered for
Frankly, it isn't easy to see why the remote had to be made quite so small either as the base station could easily accommodate a larger unit with a screen a little closer in size to that on an iPod, even if only a Nano.
Our HomeDock wasn't without the odd glitch, either. The remote seems to have problems with umlauts, grave accents and the like. I now seem to have Beethoven's 9th conducted by a "G nther Wand"; an album by K that used to be by Ké a few song titles with 'it's' in them show up as 'it s'; and every so often there's a rather annoying pause when the remote is asked to move from 'artist' to that artist's tracks, often followed by the Out of Range alert. This a clearly a data handling issue rather than a problem with the remote's transmitter, which otherwise performs faultlessly no matter what range it's used over. Well, within reason...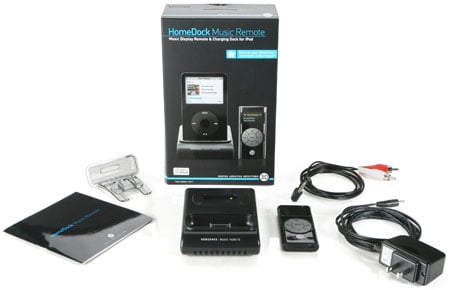 DLO's HomeDock Music Remote: plenty in the box
Moving back to the previous menu screen solves this problem, but it's an annoyance all the same. You do rather get the impression that either trying to handle 30 odd gigabytes of data is pushing the DLO's operating system just a little too close to its limits or the firmware needs a whisper more development work.
Verdict
So close yet so far. Easy to set up and use, the HomeDock with Music Remote offers good sound quality, decent value at $130 - the UK release date and price has yet to be announced - and a not half-bad user interface, the odd glitch and small-sized remote notwithstanding. But that lack of access to your iPod's album list is a big drawback for anyone with a decent-sized album-based music collection.
Sponsored: Minds Mastering Machines - Call for papers now open

DLO HomeDock Music Remote wireless iPod dock
A great idea flawed by a menu system designed by a man who clearly has a very small... record collection...
Price:
$130 (UK price TBC) RRP