DLO HomeDock Music Remote wireless iPod dock
The answer to the iPod owner's hi-fi dreams?
Sound quality is fine. We regularly play my 30GB iPod with Video through our LG home cinema system via a good quality minijack-to-RCA cable and we noticed no drop in audio quality when playing back through the DLO dock. When setting the dock up, it's worth noting that the minijack needs a firm push to go all the way home into the dock unit. One first attempt, we thought the jack was in but were greeted by a world of feedback. An extra shove fixed that.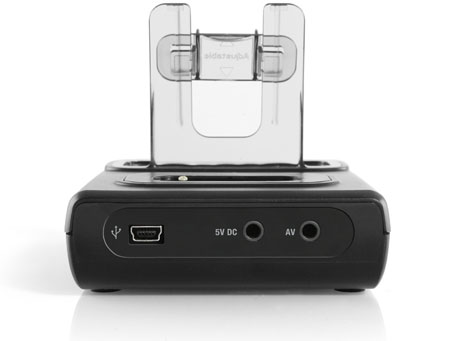 DLO's HomeDock Music Remote: also has USB, for syncing
So far so good, but it 's the music selection system that proves to be the DLO's Achilles' Heel. The main menu allows access to Playlists and Artists but not Albums. Select an artist and you get all their tracks listed as they are ordered in iTunes but with no indication of the album they are from let alone an option to chose a specific album for playback.
Now, I have over 29GB of music on my iPod - 617 albums from 310 artists - including, for the sake of this example, 15 Bruce Springsteen albums. If I want to listen to Born in the USA, no problem - those are the first 12 tracks listed. Born To Run? Easy, just scroll down to track 13 and of we go. The Wild, the Innocent and the E-Street Shuffle, though? That involves scrolling down through all the Springsteen tracks on my iPod until I get to that album's first track. Not a lot of fun to be had doing that.
If you can't recall the running order of a particular artist's albums then trying to work out were one album stops and another starts becomes guess work. That's rock and pop - navigating around a classical music collection on the HomeDock is a nightmare.


DLO's HomeDock Music Remote: nice screens, but where are the other iPod search categories?
Sponsored: Minds Mastering Machines - Call for papers now open