iPod Touch: how the Jesus Phone was really John the Baptist
Apple's best product in years kills 'convergence'
Build A Second Box, and they'll come
Where does this place Apple in the great 'convergence' debate?
Sitting very nicely, actually. With the iPod Touch, Steve Jobs is saying: 'Look, you can have your One-Box converged device if you really, really want it. But people won't mind two - if the second is attractive enough."
Opting for 'best of breed' actually gives you much more choice, of course. In Europe and Asia - although not, alas, the US market - small and stylish phones are available for next to nothing. These do 3G, are so small you can wear them as jewelry, and they'll also run Mobile24 or Google Maps, or Opera Mobile, very nicely. Because of a strange bug for which Nokia and Zimbra can both be blamed, my 'dumbphone' actually does IMAP email fetches more reliably than an E61i. The consequence is that the 'smartphone' category has really become a distinction without a difference.
What the introduction of the iPod Touch implies is that you can keep your beautiful, small, low-end or mid-range phone. The Touch will take care of music, and once it has Bluetooth, the rest. Long live the PDA!
The losers in this are manufacturers of do-it-all converged devices, particularly high-end smartphones. Nokia has most to think about here because, as the champion of One Box converged products, it's been undertaking some very ill-advised marketing recently.
Firstly, it's selling its easy-to-use consumer devices - phones - as "multimedia computers" - reminding us that computers are hard-to-use, and using a word, "multimedia", that no civilian has ever, ever used. And it's been making fun of the public who choose several best-of-breed devices, with its Great Pockets ad campaign: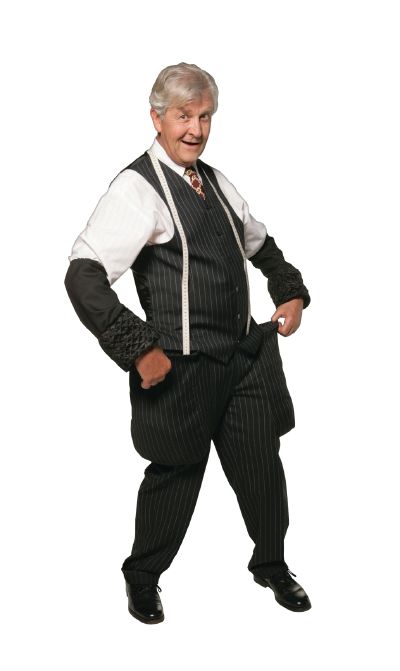 Nokia's "Great Pockets" ad campaign: but where can we buy such useful trousers?
Now my first thought on seeing this was not, 'how stupid, carrying several devices', but 'Hey! What a fantastically useful pair of trousers!'
But don't listen to me - I'm funny like that.
I'm the contented user of a Nokia N800 tablet - it has a great radio and a decent browser. But even with its generous removable storage slots, and its 800-pixel screen, I can't imagine many people opting to pay a premium - it's around $385 retail in the US - to buy the tablet over an iPod Touch.
At a stroke then, Apple makes one market category look ridiculous, while stealthily entering another.
Send me your thoughts, and I'll post the wittiest and most insightful on Monday. Tailors in North London with a nifty line in trousers are particularly welcome.
Bootnote
Like the LED, the Multi-Touch was invented here in Britain, and becomes another Great British innovation got away. And the team behind the iPod Touch? British again, led by Ken McAlpine and David Tupman. Read how they got away, here.
Sponsored: Minds Mastering Machines - Call for papers now open