IronKey 1GB secure USB Flash drive
Cast-iron data security?
Review What do you give the data security nut who has everything? IronKey may have the answer: what it claims is an almost totally secure, steely USB Flash drive that doesn't simply encrypt the data kept on it but protects your applications and online activities.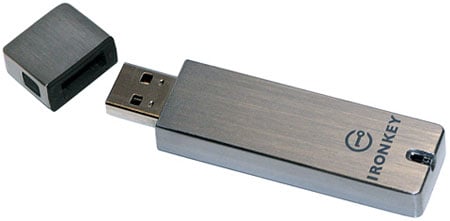 IronKey's IronKey: data vault
So no more worrying your missus might find and try that cheap Flash drive you back-up your pr0n on, then? Perhaps, but IronKey - the company - has more serious uses in mind for its dinky metal-clad product.
Out of the box, the IronKey isn't particularly distinguishable from a host of Flash drives, for all its brushed aluminium looks. But this boy's tough shell is more than skin deep. The company claims the drive is waterproof to US military standard 810F, which, if fully implemented, means it's able to withstand high and low pressures; extreme temperatures; rain, ice, dust and sand; and even gunfire vibration.
Puddles, then, are no problem, but you may not necessarily want to take it diving. Whatever, IronKey also claims its drive is solid and tamperproof too. We tried, without success, but we'd not like to state categorically that it's impervious to a determined data-thief with the right tools.
In addition to 1GB, 2GB or 4GB of on-board storage, the IronKey has its own cryptography chip that uses the very-difficult-to-crack AES, RSA-2048 and SHA-256 encryption algorithms not only to protected the data stored on the device itself but also to scramble the data the drive sends back and forth over the host PC's USB connection should anyone be snooping it.
It's worth stressing this point. The IronKey has hardware encryption, while almost all other secure Flash drives out there use software encryption. So crypto operations take place on the drive, not in memory, where they could, potentially, be tapped. Passwords are not stored in the drive's file system, but in a separate part of the hardware. The encryption keys are not held in the Flash memory.
Sponsored: Minds Mastering Machines - Call for papers now open