NEC fills PC with water for silent running
NEC could be looking to bring water-cooled electronics into the mainstream, at least in Japan that is, with the launch of its Valuestar W liquid-cooled all-in-one PC range. The manufacturer said water cools down the system more effectively than fans alone can.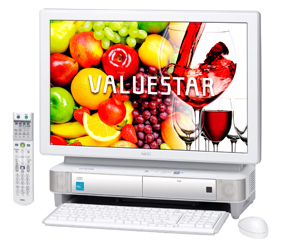 NEC's Valuestar W: water-cooled
The range is available with either a 19in or 22in display. The 19in model has a 320GB hard drive and is offered with either a 1.6GHz Intel Celeron or 1.8GHz Pentium CPU. The 22in model comes with a 2GHz Intel Core 2 Duo processor and 500GB hard drive. Both models have a 1GB memory.
NEC's water-cooling technology is licensed from Hitachi, and the W range actually represents NEC's fourth generation of liquid-cooled PCs. In previous models, a copper pipe carried water over a heatsink which drew hot air away from the CPU. However, in the W range, water is also used to cool down the hard dive and is pushed through in a more advanced method that NEC claims results in an operating noise of around 25dB, down from 30dB before.
It's understood that both models are also available with a choice of Blu-ray writer or HD-DVD reader drives. Wireless connectivity is also provided - 802.11a/b/g - on both models. However, the 22in model also supports the more advanced 802.11n.
The Valuestar W range is only available in Japan at the moment, where the 19in model retails for about ¥210,00 (£903/€1388/$1819) and the 22in model for ¥340,000 (£1464/€2168/$946).
Of course, this isn't the first time liquid-cooling has been seen out of a corporate server environment. Some Xbox 360 modders have already released step-by-step guides online for modifying the console to include similar water-cooling technology, which should help to cool the system down during a marathon gaming session.
Some old Apple Power Mac G5 models also used a liquid-cooling system.
Sponsored: Minds Mastering Machines - Call for papers now open