Is Samsung looking to take on the mighty iPhone?
The Croix handset lookylike
Is it a portable media player? Is it a mobile phone? Well, if Internet rumours are true, then yes – it's the Samsung Croix. A device that's uncannily similar looking to Apple's iPhone and that is thought to sport a touch-sensitive screen and which has recently won a design award.
Relatively little is still known about the device's capabilities at present, but the Croix name is thought to refer to its user interface, which recently won praise from the iF Communication Design Awards 2007.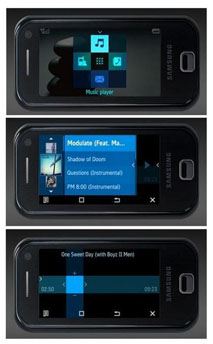 The Samsung Croix: an iPod rival?
The interface if thought to use a system of menus and lists in a cross layout, and the handset may also feature a QWERTY keyboard - most likely on the touch-sensitive screen.
Judging by the pictures, the handset also appears to have an HTC-esque pad at the bottom that could potentially be either a menu shortcut button or a fingerprint reader.
A release date or price is not yet know, but Register Hardware will be keeping its ears to the ground for you.
COMMENTS
iPhone bashers
I think iPhone bashers probably still don't get why stuff that looks nicer and has better design has more appeal than gadgets that are cheaper with more features.
I like Samsung kit, but for me, the big question for any phone or MP3 player that competes with Apple gear is whether it just works as sweetly as Apple where iTunes software on the PC integrates with the iTunes store and the device.
I have an Apple iPod that just works smoothly, whereas my wifes Sony MP3 player & motorola phone are let down by some crappy software on the PC.
I'm waiting.
Will the iPhone bashers, bash this blatant rip off, or remain mysteriously quiet?
I"m betting the latter, this will be good as its similar but without "Apple cooties" it will get strangely defended.