SanDisk goes launch-crazy
8GB cellphone and camera cards, six-card adapter, and solid-state drive
IFA 07 SanDisk released today a slew of products at IFA, the consumer electronics show in Berlin. The lineup includes a 8GB card for mobile phones, a faster card for cameras, a high-speed card adapter and a new solid-state drive for laptops. Let's dive right in...
Phone cards
Although they aren't available to the public yet, today mobile phone manufacturers and network operators will get their mitts on SanDisk's new 8GB Memory Stick Micro flash memory cards for testing and evaluation.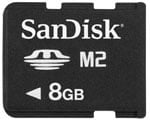 The M2 format card is primarily used in Sony Ericson mobile phones, but the size isn't something to sneeze at. The cards are, obviously, targeted on those who make heavy use of the music, video, picture, etc, capabilities on their mobile — so of course it makes sense to compare it with the you-know-what.
"With the addition of an 8GB SanDisk M2 card, consumers will instantly have the same amount of storage as the largest capacity iPhone," said SanDisk exec Jeff Kost.
SanDisk says the card will hold more than 2,000 songs, 5,000 high-res pictures, or up to 5 hours of high-quality MPEG 4 videos.
The cards are planned to be more readily available in the fourth quarter of 2007. A price hasn't been announced yet.
Camera cards
For serious digital photographers and those who like to use the video function on their camera, SanDisk has introduced two new capacities in its SanDisk Ultra II line.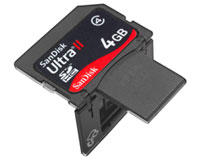 Enter the 4GB SDHC Plus card and the 8GB Memory Stick Pro Duo. Both cards have a brisk read and write speed of 10MB/sec. SanDisk said this will reduce the wait between camera shots and download time when transferring photos or video to a computer.
4GB SanDisk Ultra II SDHC Plus card also makes use of SanDisk's Hinge Lock doo-hicky, which allows the card to bend in half to reveal a USB plug for direct insertion. It's kind of a Transformer for grown-ups. SanDisk said the hinge is sturdy despite its size — lasting over 10,000 open-close cycles in their durability testing.
The 4GB SanDisk Ultra II SDHC Plus card retails in the US for $80. The 8GB SanDisk Ultra II Memory Stick Pro has a retail price of $160. Both cards will be available worldwide in October.
Flash adapter
But of course you'll need to get all that data onto your computer. Assuming you have an ExpressCard slot, SanDisk has something for that.
The multi-card ExpressCard adapter announced today supports six formats: SD, SDHC, MultiMediaCard, MMCplus, Memory Stick Duo, Memory Stick Pro Duo and Memory Stick Pro-HG Duo.
Isn't having all these formats on the market fun?
The adapter slides into the ExpressCard slot of a laptop without needing to install software or drivers. The device is priced at $30, and will hit store shelves in North America and Europe in September.
Solid-state drive
"What's that?" you say. No announcement of a solid-state drive for the low-cost PC market to stimulate education programs in the developing world?
Not so fast there, Buster.
SanDisk today has announced a solid-state drive for the low-cost PC market to stimulate education programs in the developing world. Next time you should read the whole article before jumping to conclusions.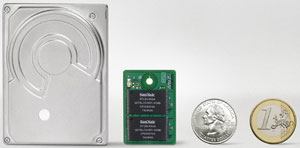 The company touts the new uSSD 5000 solid-state drive as an economical substitute for hard disk drives in sub-$250 PCs. Among the first to pick up the technology will be Intel's Classmate PC.
The drive is a USB module to be embedded directly onto the motherboard. It supports a variety of operating systems, such as Windows XP Professional, XP Embedded, Windows Embedded for Point of Service, Windows CE and Linux.
The drive is expected to be available in capacities from 2GB to 8GB. SanDisk said they will be available for "customer sampling" in 30 days, with volume availability in the fourth quarter.
Sponsored: Minds Mastering Machines - Call for papers now open