TomTom roadmaps new satnav kit
IFA 07 TomTom looks intent on driving forward the capabilities of personal navigation devices. Today in Berlin it unveiled the GO 920T, its latest flagship device, in addition to a third-edition One model and a new software package to help drivers personalise and share their maps.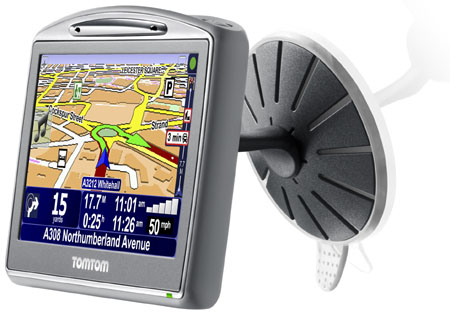 TomTom's Go 920T: satnav flagship
The 920T, which replaces the old 920, is pre-installed with maps of the US, Canada and Europe. It sports a 4.3in widescreen touch-sensitive display, 4GB of internal Flash storage and SD card slot. The metallic shell also hides a CPU, clocked at 400MHz, 64MB of memory and, TomTom claimed, the most complete set of pre-installed maps currently on the market.
It also has a remote control that, although presumably not for use while driving, operates over Bluetooth and allows users access all of the device's functions – or perhaps to be controlled by the kids from the back seat. The lithium-polymer battery gives up to five hours of battery life.
A built-in FM transmitter allows users to play music and navigation instructions through their car stereo, in much the same way as Bluetooth car hands-free kits, and speech recognition enablers users to input addresses by, well, voice.
Users can also record their own driving instructions onto the 920T -such as a reminder to watch out for number 34's cat by the driveway - to exchange positions over SMS and Bluetooth, and to select different on-screen car icons.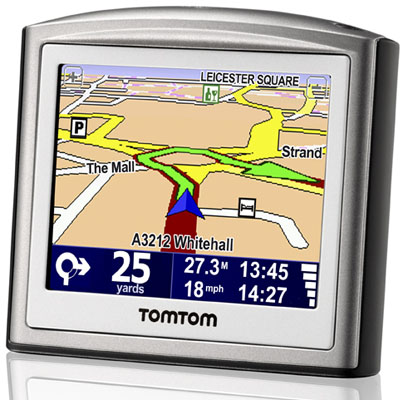 TomTom's One: third generation
TomTom today also announced the third generation of its bottom-rung One model, which sports a 3.5in, 65,536-colour touch-sensitive display, and 1GB of internal memory. Sadly, it only provides up to two hours of battery life - which is hardly enough time to get from south to north London on a quiet day.
Both devices also include the manufacturer's latest map technology, dubbed Map Share, which enables users to "interact" with their maps and alter information directly through the TomTom. For example, by correcting street locations, names or entering missing landmarks. Users can also share these corrections to their own maps with users around the world through the TomTom Home application.
The TomTom GO 920T will be available at some point during Q4, for upwards of €550 (£495/$990). The new TomTom One is available now and costs around €200 (£155/$310) for a country-specific-map model, or €250 (£209/$418) for one pre-loaded with maps of all European countries.
Sponsored: Minds Mastering Machines - Call for papers now open