EnGenius SI-680H Wi-Fi VoIP phone
Have Wi-Fi, can call via VoIP
If you're the sort of person that delights in customising their ringtone, you'll be sorely disappointed with the sparse selection on offer from the SI-608H. There are 11 to choose from and only likely to appeal to those that delight in listening to monophonic renditions of out-of-copyright concert tracks. More annoyingly, there isn't one that's just a ringing sound, making it a ticking time bomb of embarrassment if someone rings you in while you're out in public.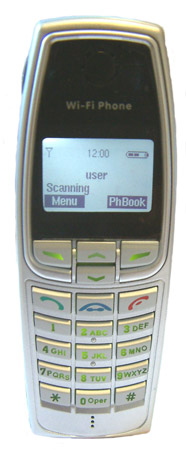 Address book challenged?
The SI-680H is not a particularly hardy device. You wouldn't expect it to be able to take the same amount of abuse as a mobile phone, but you'd still expect it to be resilient enough to take the odd knock here and there. However, it would appear that the battery connection is especially prone to bangs as if you drop it from just one centimetre onto to a desk on its back it will shut off, which isn't exactly extreme testing.
The handset uses a mobile phone-style charger that clips into a socket on the bottom of the phone, which does the job, but a cradle would be more convenient, especially as its battery life isn't particularly long. Despite a claimed 100+ hours claimed standby time we found we were hard pushed to get more than a day or so out of it.
Verdict
If you can see past its lacklustre looks and basic interface, the SI-608H is a pretty nifty little device. It combines the affordability of VoIP calls with the ease of use of a normal cordless phone by hopping on your own Wi-Fi network. What's more, you can even take it out and about with you and make calls if you can find suitable Wi-Fi coverage.
However, it's also not the most hardy of handsets and its battery life is a little on the short side, which doesn't make it particularly reliable. It's almost there, but requires a bit of polishing to make it a truly must-have handset.
Sponsored: Minds Mastering Machines - Call for papers now open

EnGenius SI-680H Wi-Fi VoIP phone
It may not be a looker, but it let's you make VoIP calls anywhere you've got a Wi-Fi connection. But handle it carefully, OK?