Xbox 360 Elite games console
Small tweaks, big difference?
At the heart of the Elite, is the same 3.2GHz IBM-designed PowerPC-based processor and 500MHz AMD/ATI graphics chip that are found in all the other Xbox 360s. So no upgrade there, and no built-in Wi-Fi connectivity, as per the PS3 and Wii, either.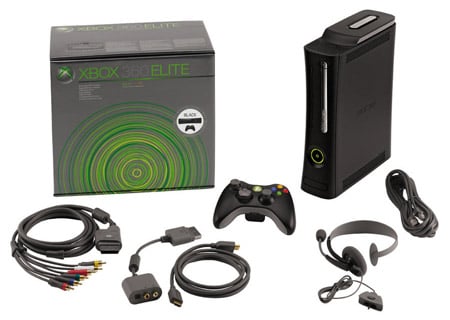 MS' Xbox 360 Elite: big bundle
Setting up the Elite is straightforward and, as you'd expect, exactly the same as its predecessor. The machine takes you through both profile and resolution set-up step by step, and it's pretty much impossible to go wrong. The only difference is the option to set the console up for high definition. This is located within System, then Console Settings, then Display. We set ours up to work with an Evesham ALQEMI32SX 32in LCD widescreen HD TV via component-video, which didn't present any problems.
The default audio setting is Dolby Digital 5.1, but you can choose digital stereo or Dolby Digital with WMA Pro. The on-screen instructions, however, indicate that "you must use an Xbox 360 Component HD, Advanced Scart, s-video or VGA HD AV cable to get digital output".
For some reason the audio menu makes no mention of the HDMI AV cable - a sign it was thrown into the mix at the last minute, perhaps - and we weren't too sure what kind of audio to expect when using HDMI as a result.
Sponsored: Minds Mastering Machines - Call for papers now open