Coming to terms with Raon's Everun tiny, Lolita-based PC
It's a goer, if you hate keyboards
Review Ah, the ultra mobile PC (UMPC). This is the one device in the computing kingdom that I want to work well more than any other.
The latest turn in my ongoing hunt for a super lightweight, compact computer led me to Raon's Everun UMPC. Here we find a product with a novel, albeit predictable take on the UMPC concept that has been shipping since about mid-year. While not overwhelmed by the device, I'm encouraged that the UMPC crowd seems set on marching towards something that could actually replace a chunky laptop.
As is often the case, the Everun proves most available to consumers in Asia. Thankfully, however, the kind folks at Dynamism shipped a test unit out to me. Dynamism is just about my favorite online store, since it has the best gadgets from around the globe and can take care of US and UK customers.
It seems silly to start a review of any device by focusing on its keyboard – unless you're reviewing a keyboard – but there's no way around the issue here. Raon has planted a miniaturized keyboard with buttons only Lolita could love at one end of the unit.
One of the Everun's best features is the ability to use it in both horizontal and vertical modes. You just turn the unit on its side, and the screen flips automatically, adjusting application displays as needed. Sometimes it requires a bit of extra force to perform this magic with the user jiggling the device back and forth. But, this usually only takes one try, and there's a comforting sense of satisfaction that comes when the software shifts.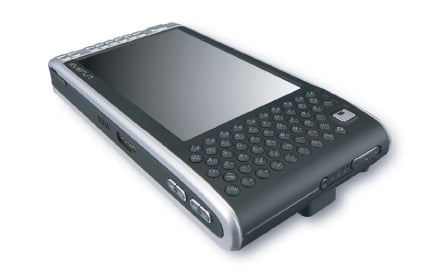 Raon's Everun - Wee Keyboard
The layout of the keyboard demands that you type in vertical mode only. I'm still trying to figure that one out. A horizontal keyboard would have let Raon spread the keys across the device and provide users with a more familiar experience.
I suspect that they keyboard was done this way to maximize the horizontal display and to allow for some measure of one-hand typing.
Of course, you can avoid the keyboard on many occasions by using the stylus in combination with the touch-screen. There's also a fantastic built-in mouse replica that lets you more the cursor around the screen with ease and start applications with a firm push.
Ponypower
You might think a 500MHz AMD Geode chip (384MB of memory) would struggle to run Windows XP. That's not the case here with the Everun booting up much faster than my IBM Thinkpad X31 with a 1.4GHz Pentium M. Although the apples to apples comparison doesn't hold since the Thinkpad has been slowed by years of software installs. Still, the point is that the Everun cranks through Windows well. (The unit is available with a 600MHz Geode also.)
More importantly, the Everun handles things such as iTunes and streaming media well. You don't want to open 10 streams at one-time or anything close to that. But I tested the device out with a couple of Houston Astros baseball games delivered through MLB.com, and the live streams were great.
In fact, the ability to digest media on a device that also gives you remarkable access to email and documents is what really makes the Everun attractive. If you commute and have any kind of business inclinations, it's hard to see how this isn't a better option than something like an iPod or a laptop. You can crank up your favorite songs and dive into email with a handheld system. The Everun has both built-in WiFi and Bluetooth, so there are ample networking options to fire off your work or grab new music/movies.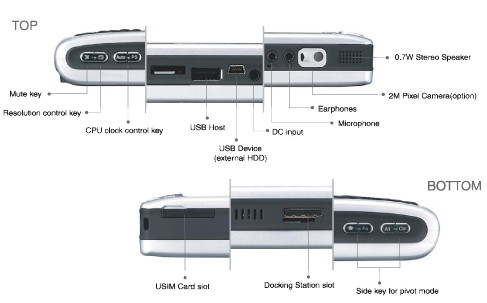 Buttons, Tiny Buttons
The battery life – about five hours with standard use for me – is impressive. In addition, the system remains much cooler than other products such as OQO's device that I've tried.
And at $1,000 from Dynamism, the price seems more than right here.
I should warn you that the Everun is anything but intuitive. The power on button actually proved tough to locate and is recessed to the point of frustration – probably to avoid accidental turn-ons. The system also crashed the very first time I booted it, but hasn't had any troubles since.
And then there's the keyboard. Did I mention the keyboard? Dear lord, it's tiny.
The design makes some pretty basic things like writing a capitalized letter tough. To hit the miniscule Shift key – located on two sides of the system – one of your fingers must contort in a Carpal Tunnel-friendly position, and even then it's tough to time everything just right to actually produce a large letter.
The Total Package
All in all, however, I found the Everun to be one of the more pleasing UMPC devices built to date.
It weighs in at 1 pound, gives you the full Windows experience, runs cool and even has a handy wrist strap, if you want to look like the biggest tool on the bus. The decent performance of the Geode chip along with the easy-to-use touch-screen keyboard make this a mostly practical product.
Ultimately, I'd be reluctant to give up my laptop until the keyboard issue is sorted out. I just do too much typing to endure those wee buttons.
You can find the device in all its glory at Dynamism.®
Sponsored: Minds Mastering Machines - Call for papers now open