Is US Army ordering robot spy blimp?
Inflatable airborne Peeping Tom flotillas forecast
The US Army seems to be moving to acquire a robotic spy blimp, able to float high in the sky for lengthy periods and monitor activities on the ground below.
According to a routine Pentagon summary dated yesterday, Telford Aviation of Dothan, Alabama was awarded an $11,195,164 contract for "operational support for Medium Airborne Reconnaissance Surveillance Systems." The contract was awarded by the US Army's Communications-Electronics Command.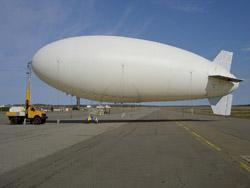 Unmanned Spy Blimp. Credit: Telford Aviation.
Telford Aviation is a company which provides leased aircraft, maintenance and parts to the civilian market. It's central operations are based in Maine: but it also has a "Government Programs" arm based in Dothan, Alabama.
The Telford Government Programs office webpage has a section titled "Unmanned Aerial Systems (UAS)," under which it says:
"Today Telford Aviation provides all operational support for a 30,000 cubic foot airship and is part of a research and development team developing a 80,000 cubic foot airship designed for counter terrorism, port security and border patrol. Telford Aviation expects to build and operate this system within the near future."
The 30,000-cubic-foot ship is presumably the unmanned Skybus 30K, whose consortium of producers is headed by Science Applications International Corporation (SAIC), the well-connected behemoth government tech provider. The Skybus 30K is described as a "testing and demonstration platform for a series of large airships," and was developed by SAIC and Telford at the Loring UAS Test Centre in Maine under a Navy contract. It was given an experimental FAA airworthiness certificate last month.
SAIC says that the Skybus "can loiter for 30 to 40 hours, can travel up to 35 knots, and has faint visual, radar, infrared, and acoustic signatures."
The Loring Development Activity, the business park operating on the old Loring airforce base, says that the Skybus "has the potential to support military surveillance operations."
Putting all this together, it seems clear that the US Army's "Medium Airborne Reconnaissance Surveillance Systems" - not a term it normally uses - will be robot spy airships intended for ground surveillance. The US Army already operates tethered aerostat balloons for this purpose, and has previously trialled manned blimps. But now it appears to be moving forward with self-propelled robot aircraft.
One might hope that the Army's interest is in spying on Iraqi insurgents and Taliban gunmen, using cheap-to-run airships which can lurk in the sky for days on end above the range of handheld anti-aircraft missiles. The manned airship in the 2004 trials was said to be able to comfortably exceed 10,000 feet if required, which would keep it safe from shoulder-launched missiles even if they could lock on to its feeble signatures.
"The airship platform can provide a clear and detailed view of the activity on the streets below and yet stay out of the range of many weapon systems," according to a contractor involved in that trial.
"The military could fly a controlled, quiet orbit over an area like Fallujah, day or night, and be able to locate insurgents placing explosive devices or setting up ambushes," added another.
But other US government customers could fly a nice quiet orbit over other areas closer to home, too. SAIC thinks its baby would be good for "a variety of security and intelligence operations including border patrol, port security, survivor search, wildlife management and sports event monitoring."
Of course, a blimp isn't all that different from police helicopters or - if you're very important to the Yanks - spy satellites, that we're all quite used to being watched by. If we live in Southwest Asia, we're also quite accustomed to a variety of robot planes too. But it costs like crazy to monitor people from above with most of those - especiually for any sustained period - and in many cases a target will know that the spy platform is there. (Even secret spy satellites are often tracked by enthusiastic amateurs.)
Robo-blimps, by contrast, should be cheap, persistent and quiet, very hard to notice at night, and thus could bring with them an explosion in aerial spying activity. Analysts have been predicting their advent for some time.
It appears that the day may be here.®
Sponsored: Minds Mastering Machines - Call for papers now open