NASA ponders stressful stress-test device for astronauts
I'm sorry Dave, I can't let you do that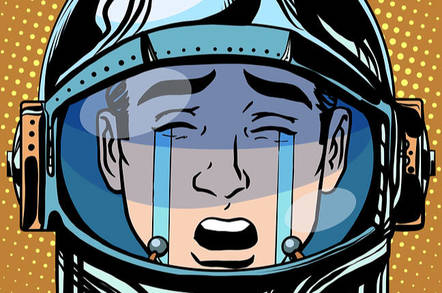 American researchers have developed a new handheld device which they reckon will be able to tell if an astronaut is too stressed out, tired, or otherwise unfit to carry out a difficult task in space.
According to an article in New Scientist, David Dinges - chief of Pennsylvania University's Unit for Experimental Psychiatry - has developed a gizmo called the Psychomotor Vigilance Task (PVT). When an astronaut is about to do something tricky like pilot a space shuttle in a docking manoeuvre or chuck an old fridge off a space station, he or she quickly grabs the PVT and takes the three-minute test, which involves pressing buttons when lights come on.
Provided the spaceman or woman isn't knackered, drunk or, erm, a trifle loosely wrapped - perhaps due to a stressful, potentially violent love-triangle incident - the test will give the OK. But if the astronaut is a bit mad, blotto, sleepy, or otherwise sub-par, the PVT will issue a no-no: perhaps by a recorded voice saying "I can't let you do that, Dave."
The need for such tests is seen as vital.
"In high-performance jobs like an astronaut's, you want them as close to optimal performance as you can get them all the time," Dinges told New Scientist. "The consequences of a human error are grave."
Apparently, Dinges developed the device while working with "aquanauts" in NASA's underwater space habitat simulator off the coast of Florida. The simulator creates conditions just like those in space, except that there is water instead of empty vacuum. Dinges monitored the aquatic spacemen's sleep patterns and cortisol levels to see whether the PVT worked.
There would seem at least some chance of the PVT actually creating the conditions it seeks to detect. Astronauts might develop pre-PVT stress, leading to them failing the test even if they were previously fine. The only logical thing would then be to develop more tests, in order to work out if people have pre-PVT stress syndrome. Perhaps some kind of invasive in-orifice probe, constantly monitored by teams of researchers in relays.
Or they could just let the beleaguered astronauts get on with their jobs and let them have a beer occasionally. It's no wonder the space aces occasionally get a bit twitchy if this is the sort of thing they have to put up with all the time.
More from New Scientist here. ®
Sponsored: Minds Mastering Machines - Call for papers now open