How to get TV on your Mac
Watch and learn
Mac TV tuner specialist Miglia also has an ExpressCard product on offer, the TVBook Pro, but it's a chunkier beast than the Terratec. Miglia offers an analogue USB tuner, the TVMicro Express; and a digital tuner, the TVMini Express. It used to equip these with EyeTV, but a little while back decided to use alternative software, The Tube, from US developer Equinux. It provides essentially the same set of features as EyeTV 2 - which you prefer is largely a matter of personal taste. Officially, it only supports Miglia products and Equinux's own TubeStick USB tuner, and is not available - apart from the test release - as a standalone product.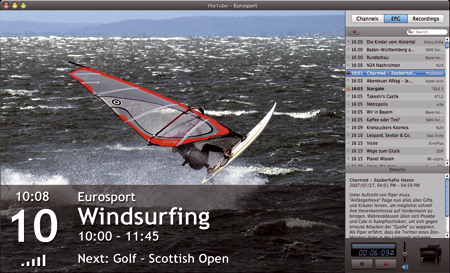 Equinux's The Tube: bundled with Miglia tuners
The hardware products listed above all work with the DVB-T (Digital Video Broadcasting - Terrestrial) standard used in the UK by the terrestrially broadcast Freeview channels, but there are other transmission modes, specifically cable and satellite. Elgato's external EyeTV 310, for example, supports DVB-S. There's a big caveat, however: it doesn't work with Sky. Yes, the box has a smartcard - aka CAM (Conditional Access Module) - slot to enable the decryption and display of some European DVB-S services, but Sky works differently.
Elgato's EyeTV 610 works with the cable-centric DVB-C system, again backed with a CAM slot. At this stage, however, it won't let you view Virgin Media cable broadcasts, even with a slot. Indeed, Elgato doesn't offer the 610 in the UK for that reason.
On the other hand, the EyeTV 410, a DVB-T product, also contains a smartcard slot so it's possible to access pay TV channels sent via Freeview, such as the TopUp TV selection. The snag is TopUp TV's shift to its Anytime, which downloads overnight the programmes you want to view. EyeTV 410 lacks the software to support this mode, and at this stage it will only support old TopUp TV access cards.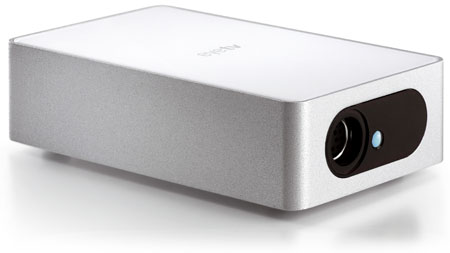 Elgato's EyeTV 250 Plus: MPEG encoding hardware built in
Last but not least, Elgato's new EyeTV 250 Plus is a digital and anlogue tuner with a difference: it has on-board hardware compression hardware. Other analogue tuner products from Elgato and others use software compression, so they're dependent on the power of the host Mac. That may not worry Mac Pro owners, but it'll be good news for folk with iMacs, MacBooks and older machines.