How to get TV on your Mac
Watch and learn
All these tuners connect to a USB 2.0 port, but that's not the only option available to MacBook Pro users: Terratec also offers the Cinergy T Express, an ExpressCard 34 tuner that makes for a less obtrusive add-on, and one you can leave connected to your laptop when when you're carrying it around. The Express uses a mini antenna socket, but Terratec bundles an adaptor so that card can take a standard co-axial aerial cable feed.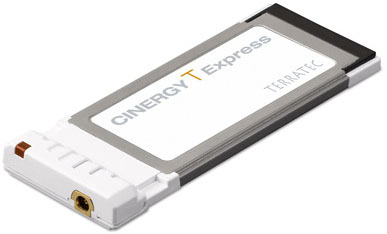 Terratec's Cinergy T Express: notebook-friendly
Terratec told us there's no substantial difference between the USB and ExpressCard tuners - offering two form-factors is more about catering to more buyers' requirements than delivering a more capable product. That said, the higher bandwidth provided by ExpressCard may prove advantageous in future.
Incidentally, owners of PowerBooks, with old-style PC Card slots, can avail themselves of Formac's Watchandgo.
Myth TV on Mac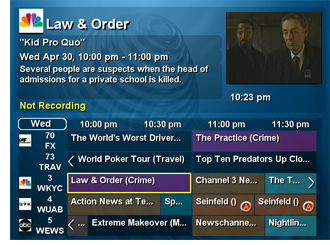 MythTV
is a very impressive, feature-rich open source DVR software package with a big, friendly user interface, and ever-expanding functionality that's seen the addition of game console emulation, weather look-up, video playback, CD ripping and more. It can do digital TV and HD.
Originally developed for the Linux operating system, it's since been converted to Mac OS X. Well, sort of. MythTV has two components: the front-end UI and a back-end that does all the heavy lifting. Right now, while the front-end code runs under Mac OS X in PowerPC, Intel and Universal forms, you'll need a separate Linux box to run the back-end software, which you'll need for recording, for instance.
While MythTV supports video capture from Firewire-enabled set-top boxes, it's limited to Linux-compatible TV tuner hardware, which pretty much means tuners on internal cards and not USB tuners.
So it's not a product for folk seeking an easy life; rather it's a tool for hackers looking to build a DVR or a networked media server out of an old PC.