How to get TV on your Mac
Watch and learn
Indeed, Pinnacle has two Mac-oriented products: the digital-only TV for Mac DVB-T Stick and the digital and analogue TV for Mac Hybrid Stick - both of which bundle a cut-down version of EyeTV, EyeTV Lite. They're priced at £70 and £100, respectively. EyeTV also works with Pinnacle's otherwise PC-only PCTV series of USB tuners.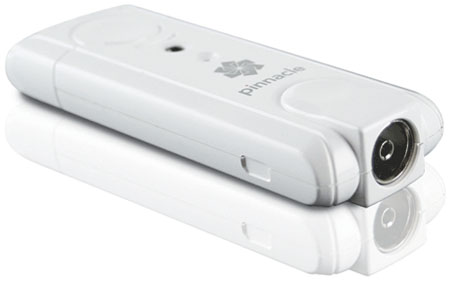 Pinnacle's Mac DVB-T Stick: Freeview ready
Terratec likewise offers Mac versions of its Cinergy DT USB XS Diversity dual digital tuner; Cinergy T² external tuner; digital-only Cinergy T USB XS; and digital/analogue Cinergy Hybrid T USB XS, all bundled with EyeTV.
Hauppauge offers €20 off the price of EyeTV with its compatible hardware products, the WinTV Nova T, WinTV HVR 900 the WinTV HVR 950 and the WinTV Nova TD. Each comes with a code you can key into a page of Elgato's online store to redeem the discount.
Elgato itself offers are range of very similar products - most come from the same Asian manufacturers and are rebranded by the local suppliers - including the digital/analogue EyeTV Hybrid, the digital-only EyeTV DTT and the dual-tuner digital-only EyeTV Diversity, all USB dongles, and all HDTV compatible once HDTV programmed is broadcast over the Freeview network. You'll need a modern Mac to smoothly show the HD picture.
These, and similar products from the other suppliers, certainly work well with Macs, though while they all come bundled with one or more mini aerials, we'd recommend you use them with a standard roof- or loft-mounted antenna to pick up the largest selection of channels.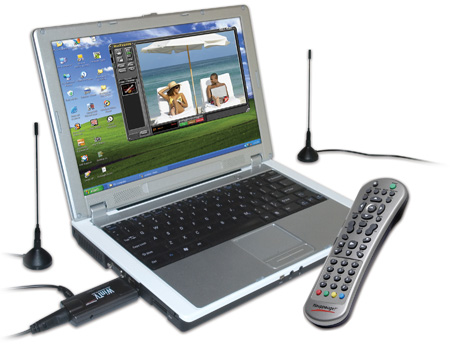 Hauppauge's WinTV Nova TD: two tuners to boost reception
Diversity-branded dongles come with two antenna and the ability to use both tuners as a single, stronger receiver. It certainly improves the reception, but, depending on your location, you may find the improvement limited. This isn't going to change until analogue transmissions are turned off and UK DVB-T signal strengths can be increased.