How to get TV on your Mac
Watch and learn
Feature Will Apple ever equip its Macs with TV tuners? Plenty of users have asked it to, and Apple's own Front Row software would certainly make a smart user interface for a DVR. But as Apple's Apple TV set-top box shows, the company's more interested in persuading consumers to pay to download TV shows from iTunes than watch broadcast telly.
Thankfully, that's not the end of watching TV on a Mac. Other companies are willing to fill the gap Apple has left, and if you want to watch analogue or digital broadcasts, satellite or cable transmissions on your Mac, you can.
The doyen of Mac TV products is Germany's Elgato, which has come to dominate both the software and hardware sides of the equation. It's software is EyeTV, currently at version 2.4, and has a feature list and a slick user interface that puts much of the software bundled with Windows-oriented TV tuner hardware to shame.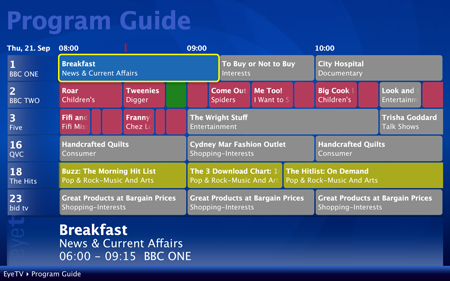 Elgato's EyeTV: select a channel
EyeTV provides all the customary DVR features - record shows there and then, schedule recordings, pause live TV, etc. - and even allows you to edit recordings to trim out ads and bits of previous and subsequent programmes that have been grabbed along with the show you want to watch.
The software works with Roxio's Toast disc burning application, if you have it, to facilitate archiving, and it'll also reformat recordings at the push of a button for the Apple TV and iPod - and, for that matter, other playback gadgets that support the same H.264 video format.
EyeTV includes a year's subscription to Europe's TVTV.com online electronic programme guide, though it'll also pick up EPG information broadcast by digital TV channels. You can organise channels into favourites, by genre, or by whatever means takes your fancy.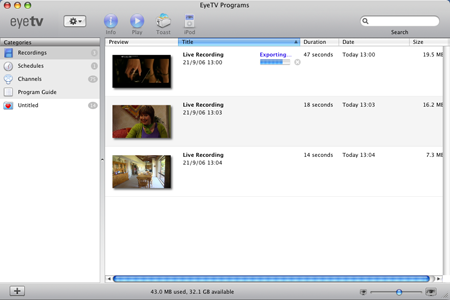 Elgato's EyeTV: manage and export your recordings
It is, in short, the definitive TV application for the Mac and well worth the €80/$80 (£40) Elgato's asking for it. Of course, Elgato bundles EyeTV with its own line of TV tuner hardware, but it'll also work with an array of hardware from other manufacturers, including Plextor, Twinhan, Terratec, Pinnacle, Miglia and Hauppauge, so you're not tied to buying Elgato's own hardware. There's a full list of EyeTV-compatible tuners here.
Sponsored: Minds Mastering Machines - Call for papers now open