Time marches on to Nokia's latest handset
The big hand is on the 6555
Nokia has unveiled its latest clamshell handset, which is supposed to mirror a high-end luxury phone without the matching high-end luxury price tag. The 6555 is a 3G handset with a large analogue clock on its front fascia.
The WCDMA and quad-band GSM handset has an internal screen of 240 x 320 pixels, that's also capable of displaying 16m colours, which Nokia claims will provide a brilliant and crisp resolution despite being twice as many colours as the human eye can see.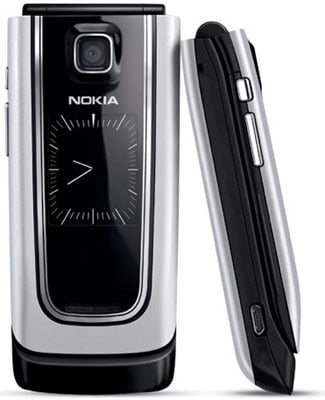 The Nokia 6555 timekeeper, oops, phone
Tech specs are still sketchy, but the handset does feature an onboard camera, with a 6x zoom and a full screen portrait viewfinder. The camera also incorporates a self-portrait function to help users snap themselves perfectly.
The phone also features 30MB of internal memory and a Micro SD card slot, in addition to Bluetooth.
Nokia describes as a handset for "discerning customers", who also seek "an ergonomic user experience". But we'll let you make up your own minds on that one.
The Nokia 6555 will be available next month, with the retail price dependent on network tariff.
COMMENTS
@pctechxp
1 & 2) There are plenty of instruments available which are capable of measuring light with a higher resolution than the human eye. By way of analogy, just because you can't see radio waves doesn't mean they don't exist.
3) It doesn't produce light that the eye cannot perceive - it is simply capable of producing finer graduations in colour, brightness and/or saturation than the eye can perceive.
RE: should fall foul of advertising law
The monitor you used to type your message can also display more colours than the eye can see, unless you typed your message on an old Amstrad 8256. Its nothing new so welcome to 1995.
should fall foul of advertising law
If its twice as many colours as the human eye can see:
1) How did they design it?
2) there is no way of ever testing this so it should fall foul of trade descriptions
3) what happens if it selects a colour or hue that the eye cannot perceive, this would be perceived as a dead-pixel and prompt a warranty return surely?