Thinking outside the Opera box
Von Tetzchner sings to El Reg
Do you feel FireFox is compromised by that relationship?
I don't know what kind of relationship they have, but I think there's nothing wrong with that business model. We were the ones to start it - we were the first to put a search bar in the browser. People think this is a good thing. This helps Google, given they are the default in this, but people can choose to go with others. It's good we can give it away for free giving away a.. same bar.
Do you detect a disenchantment with the performance and user experience of FireFox 2.0?
We just try to focus on our side. We've always focused on a somewhat richer interface. We've had a lot of negative comments ourselves over the years; for example, when we introduced tabbed browsing a lot of people said it doesn't make sense. We've introduced things like zooming, mouse gestures and the like - and we find they find their way into other browsers; tabs found their way into IE7. We are being copied, but we would like to focus on features and giving users a good experience. We favour a fairly minimal UI, but not requiring you to install a lot of plug-ins. We know there is an Opera plug-in for FireFox, which is actually 15 different plug-ins in one. Now adding one or two plug-ins is OK, but if you add 15 to 20 then it impacts performance.
How?
It's easier to be efficient if you're coding every piece of the code yourself. I've seen it myself. Someone on a core part strives to make their part really efficient; then someone on the UI side makes something simple but that makes heavy demands. It's easy to think, "something I do doesn't have to be that efficient", but it does. For example, in one of our builds we noticed the progress bar loading was taking up 25 per cent of the CPU.
I'm still amazed Opera has such a tiny footprint
This has been a focus for us - Opera runs on 10 year old hardware. But we noticed external code takes up time and we write our own libraries. There are libraries out there that satisfy a lot more different kinds of programmers - but when you use it your program becomes bigger and slower.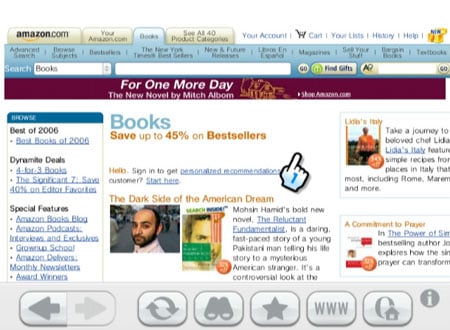 The Web on TV: Nintendo Wii's Opera browser
What are you doing with the built-in Mail? It got an amazing reception when it appeared, but there are lots of complaints about it not being updated. Or there are tiny features that would sway people to make it their default mail program that never get implemented...
I think we need to look at ourselves in the mirror, and say there's something to your point.
We are addressing it. In the next version there's a significant back end improvement and some front end improvements. This is a product we believe is very important. I use it for everything I do. I have 300,000 to 400,000 mails in my system.
The choice of mail applications is poor on Windows. And Outlook is the most targeted for security. At Opera you're banned from using Outlook. We don't mind people trying things, but one of our sales guys got a virus and started spamming customers. That's stupid. We can't have that.
Sponsored: Minds Mastering Machines - Call for papers now open