Oono Transmita Vii wireless music system
Wireless music - just don't go into a different room
Review 'Wireless' is a wonderful word that creates beautiful images in the minds of the gadget-obsessed masses. We imagine headphones and MP3 players working together in cable-free harmony, or desktop peripherals resting comfortably with our PCs, without constantly being pulled out of place by connection cords.
Manufacturer Oono has stepped up to the plate and created the Vii – a two-piece unit that claims to remove the need for connection cables between a music source and the output device by wirelessly transmitting audio content over short distances, for example, from the iTunes library on a computer to a pair of stereo speakers.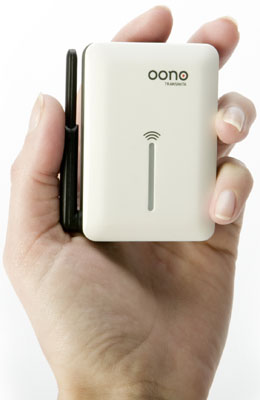 Size and simplicity are its two strong points
The Vii is Oono's second attempt at a wireless music system - the product is a redesign of an earlier model called, simply, the Transmita. The new kit is still very simple, consisting of a transmitter and a receiver, both of which are identical in size, design and shape. You also get a host of connection cables.
Thankfully, labels have been stuck on the underside of each unit to indicate which is the receiver and which the transmitter. But, it's disappointing that no set-up instructions are included with the packaging, forcing us to visit Oono's website for the PDF manual before we could do anything.
By Oono's own admission, the original Transmita "crept into the market in 2006 without much fan-fare", and this is presumably what spurred the Vii's new design. It ditches the predecessor's 'mobile phone with its face-plate removed' feel in favour of a sleek, palm-sized white box with black bands around the edge.
The kit is plug'n'play, so we connected it up to our Dell Inspiron 9400 laptop by plugging one end of the supplied 3.5mm-jack audio cable into the transmitter and the other into the laptop's headphone jack. We then plugged the second supplied audio cable into the receiver and plugged the other end into the supplied 3.5mm-to-RCA converter. The two remaining ends could then be connected into our compact stereo's rear phono jacks.
Sponsored: Minds Mastering Machines - Call for papers now open