Sky offers goals on the go
Kick and score and watch and walk
Broadcaster Sky has revamped its Mobile TV service and is offering users live streams of its primary sports channels. The addition of Sky Sports channels one, two and three means fans of the Gooners, Red Devils or even the Blues will now be able to watch live football on their handsets.
The update falls under the Sky's Sports and News Mobile TV package, which costs £5 per month including network data charges, and enables unlimited live viewing of any sports broadcast on the three channels. The service is also available on PCs and means that Sky is now the exclusive provider of Barclays Premier League matches on mobiles.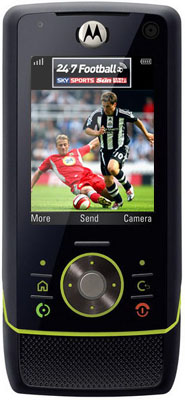 Now, if they could just show AFL...
At the same time, T-Mobile has become the third service provider to offer the Sky service on its network, alongside Vodafone and Orange. The service is available on all Vodafone's 3G handsets and a Sky representative told Register Hardware that it is also available on the majority of other 3G devices currently on the market including the Motorola Z8 'kick slider' media phone.
Last month BT announced that it was canning its Movio mobile TV service, partly because it used the DAB service instead of the EU-backed DVB-H service and it was rumoured to only have several thousand subscribers.
COMMENTS
Re Small Screen
Yeah No contest I can't even lift the plasma let alone sling it in me pocket.
Re: Small screen
HD is about the resolution, not the size of the screen, doh!
In any case, it's all about the flexibility and choice of watching TV anywhere, not about how big your screen is, when it comes to promoting TV channels.
Small screen
Small mobile phone screen vs 32" HDTV - No contest really.
Still, it's funny that content providers like Sky spend so much time promoting HDTV and now they're promoting the worlds smallest TV.