Sony VAIO VGC-RM1N HD workstation
Make and edit your own HD movies
Review HD video may be the standard of choice, but the downside of those beautifully composed and shot HD home movies is how to edit them off the HD camcorder so they can be stored somewhere more convenient than the camcorder itself.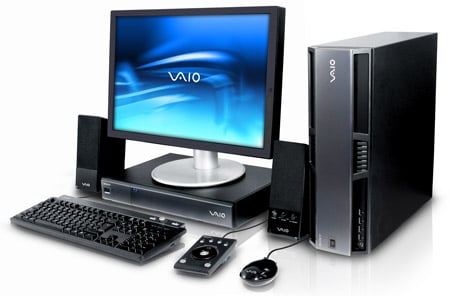 The RM1N packs a powerful processing punch
Unless you have an ultra fast PC, you are going to be leaving your system chugging away on its own for a few hours while it tries to encode all that lovely footage.
Sony has confronted the problem head on with its new HD Editing Workstation, the VAIO VGC-RM1N, which carries a price tag that only those among us with deep pockets or a serious need for HD editing power have to worry about. And to help you justify splashing out two and a half grand on a system (without a monitor) to anyone who asks, it comes with two system boxes.
The largest of the two system boxes (14 x 43 x 44cm), which has a passing resemblance to an old video recorder (it weighs about as much as well), holds the main system hardware and can be either set up like a normal desktop or stood up like a tower. If you choose this option a stand is provided for support. The second, more streamlined unit (6.4 x 43 x 29cm) holds the two optical disks and doubles nicely as a monitor stand. The two are connected by a proprietary cable that is around 2 metres long, which gives you some leeway as to where you put each box.
To edit HD content you need some serious CPU power, and thankfully Sony hasn't skimped on this. The RM1N comes with the entry level Intel Quad core processor, the Q6600, which has a 1,066MHz FSB and a total of 8MB of L2 cache shared between the four cores. The CPU sits in a Foxconn motherboard using Intel's P965 Express/ICH8R chipset combination.
Two of the four DIMM slots each hold a 1GB stick of PC2-5300 DDR2 memory, running at 667MHz with 5.5.5.12 latencies, but the board will support a maximum of 4GB. All of which gives the performance you need, 6962 marks when tested with PCM05 while the Windows Experience Index gives an overall score of 5.5, the score being dictated by the lowest component score, in this case the memory.
Despite the size of the main system case, once you undo the two screws holding the side/top panel in (whichever way you have it set up) and take a peek inside, you'll see not much in the way of spare space. One side of the chassis is dominated by a huge heatsink, which more than resembles the coolers supplied with the BTX (remember those?) format chassis.
Sponsored: Minds Mastering Machines - Call for papers now open