NASA issues Constellation/Ares enviro-impact estimate
Limited ideas mean limited pollution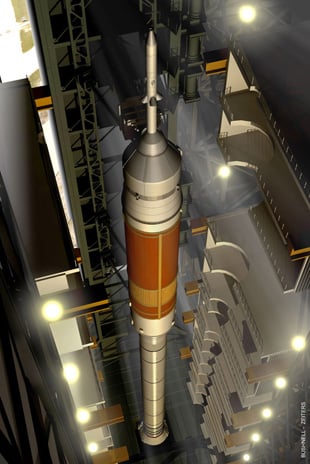 Ares 1 - the Shuttle replacement
NASA's plans for the system which will replace the Space Shuttle have continued to move forward. Last week, the space agency inked a deal for solid-fuelled test rockets. Now it has issued an assessment of the environmental impact which will result from the entire "Constellation" programme.
Constellation will be made up of a variety of spacecraft, including the Ares launch systems, the Orion crew module, lunar landing units, and in time - all being well - deep space systems for a journey to Mars. The main effects for Earth's environment will come from the Ares boosters, however, as they will be releasing rocket exhaust into the atmosphere.
NASA says: "The Constellation programme will be based largely upon components and facilities used in the Space Shuttle programme, [thus] the potential environmental impacts are expected to be similar... potential environmental impacts include rocket engine tests [and] rocket launches..."
The Ares rockets are to use a lot of liquid hydrogen-oxygen engines, including modernised J-2X versions of the old J-2s from the Apollo programme's iconic Saturn Vs of the 1960s and 70s. Hydrogen-oxygen rocket exhaust is mostly water vapour - clouds. It has a small molecular hydrogen component which can cause relatively minor ozone-layer damage, but overall hydrogen-oxygen rockets are some of the most environmentally friendly transport in existence (though their fuel requires energy to be produced).
The big worry, as with the old space shuttles, is the solid-fuel boosters. The Ares V cargo launcher will have two of these strapped to its lowest stage, and the entire bottom stage of the Ares I astronaut-carrier rocket will be solid driven. Solid rockets throw large amounts of toxic crap into the atmosphere. That said, NASA's activities won't be massively noticeable as a proportion of the human race's activities in this regard, just as they haven't been in the era of the space shuttle and the various other launch systems in use.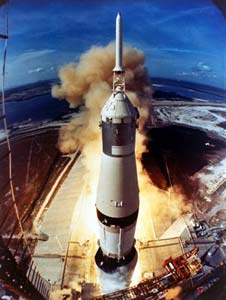 The 1960s Saturn V. Spot the difference.
From the viewpoint both of a back-to-nature hippy and many space-tech enthusiasts, the Ares launchers are messy in other ways too. Their every use involves the violent destruction of megabuck machinery by the many, many tons. All this, quite apart from direct pollution, represents needless mining, refining, and manufacturing to the tree-hugger. To a lot of engineers and space enthusiasts it appears as a terrifically inelegant and wasteful way of doing business; which can never deliver affordable, routine access to space.
NASA, of course, says Constellation is the cheapest means of getting a given amount of stuff into space using present technology - and that may be right. But it's very hard to see it as a forward step for the human race. There are those who would say that another Apollo style stacked-rockets effort in which tens of billions are spent to put a few astronauts' boots on Mars will end just as Apollo did - with loss of interest and little in the way of lasting achievement.
People who think that way would say the USA should instead use its colossal technical muscle to move forward with new technology - be it nuclear rocketry, scramjets, laser launch, geuninely reusable lower stages, whatever - and establish a real, sustainable human presence in space within the Earth-Moon system.
They might then suggest that having by great effort struggled out of Earth's gravity well, it makes relatively little sense to plunge back down into the Martian one.
The asteroids, it could be said, would be a more fruitful place to look for resources that might make space pay one day (that is, pay in a fashion not involving spying on, communicating between, or locating points on Earth. Or tourism for billionaires).
Still. When those people come from a country which hasn't got a space programme and doesn't really even pull its weight within the European agency - like us Brits - they probably don't get a vote. ®