'Law and Order' cop accused of child porn possession
After taking PC to Geek Squad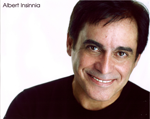 The actor who played a hard-nosed cop who cracked down on sexual deviants on prime-time TV has pleaded not guilty after authorities said they found 180 images of child porn on his PC.
The offensive photos were allegedly found after the actor, Albert Insinnia, took his PC to a Best Buy in New Jersey for repair, NorthJersey.com reports. An eagle-eyed Geek Squad serf spotted them and alerted a detective handling security at the store. A one-month investigation was commenced.
Insinnia played Lieutenant Pizelli on NBC's Law & Order: Special Victims Unit. He turned himself in to Passaic County Sheriff's Department in New Jersey on August 13 and was charged with two counts of possession of child pornography.
An attorney for 57-year-old Insinnia said his client is innocent of all charges.
"It's a situation where he's in possession of a computer that had a hard drive that's a few years old," the lawyer, Joseph Portelli, said. "Various people have had access to it, at home and at work. They're not his."
The report is the latest to demonstrate the unintended consequences of taking a PC to Best Buy. It turns out the men and women of Geek Squad have been known to do more than simply install additional RAM or swap out a faulty hard drive. In some cases Geek Squadders have been caught helping themselves to their customers' personal porn stash. And in a separate incident, a California woman claimed in a law suit that a Geek Squad technician left his cell phone in her bathroom so he could secretly video record her while she showered. ®
Sponsored: Application managers: What's keeping you up at night?