Wacom Bamboo tablet
Nothing difficult to swallow about this
Wacom has reduced the stylus on the Bamboo by more than 25 per cent, and has gone for a traditional "pen" design, while still retaining all the classic features - such as the double-sided switch, which can be set for a variety of functions, most typically double-click and right-click, and can now be used for 'drag', or the spacebar function in Photoshop, and the top of the stylus still acts as an eraser.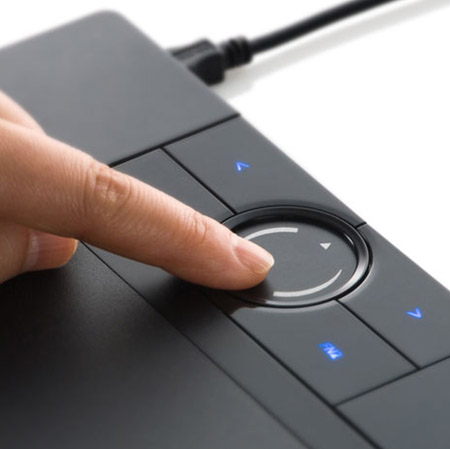 The express keys are fully customisable for frequently used function
Perhaps the Bamboo's biggest improvement over the Intuos models, and indeed most other tablets, is the addition of a removable USB cable, doing away with all the troubles caused by stowing the tablet with a lead poking out. Any tablet user will tell you this is vital in ensuring the safety of the machine and reducing wear and tear.
Verdict
For anyone wanting to dabble in graphic design/freehand draughtsmanship, or someone looking to break into the realm of tablet use, the Bamboo is a decent option. It is far lighter and less chunky than the Intuos models, and can be stowed easily. However, the size does make detailed drawing a little problematic, and even the most steady-handed of artists may be defeated by the wildly sensitive cursor. This is all small fry, however, compared to the benefits of the removable USB lead. What a relief.
Sponsored: Minds Mastering Machines - Call for papers now open

Wacom Bamboo tablet
A sleek and sexy tablet that will appeal to newcomers possibly more so than longtime users